On Tuesday 28th March director of operations, Fiona Williams presented to the judges of the bfa HSBC Franchisor of the Year Award ahead of the Awards Ceremony in June.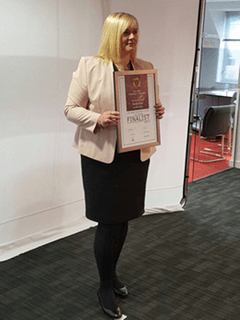 Being 1 of 5 finalists in the bfa HSBC Franchisor of the Year 2017 Award category is an honour and it created the perfect opportunity for Fiona to share the achievements of the Bluebird Care franchise support centre.
Each finalist was required to give a 15 minute presentation to the judges to be used as part of their selection process when selecting an overall winner.
The Bluebird Care franchise support centre devote their time to developing and supporting the network which has over 200 franchisees and so Fiona's presentation became an exciting opportunity to recognise the whole team.
Fiona wanted to showcase the work her dedicated team have achieved, proving that Bluebird Care deserve to be a finalist in the bfa HSBC Franchisor of the Year Award category and demonstrate why we are the market leader in home care franchising.
The biggest challenge for Fiona was to condense her experience at Bluebird Care, leading the franchise support centre team, into a 15 minute presentation.
Although challenging, this was an exciting opportunity for Fiona to represent her team and shout about what we do really well. She commented:
I believe I am part of the best team in the UK! We are passionate about delivering the very best care and supporting our businesses to the highest standards possible. We pursue excellence at every opportunity and this makes me feel proud to be part of Bluebird Care.

SHARE: