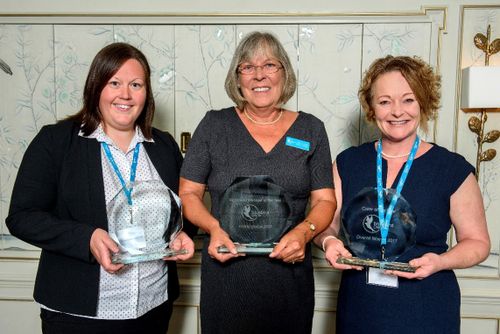 Earthy Photography (L-R): Katy Cresswell, Valerie Holland, Joyce Morton
Winners talk of exceptional support from franchisees
Franchise owners and their teams expressed huge pride in the work they do to improve the lives of Bluebird Care customers at the company's annual awards.
At the London event on 5 September, three outstanding Bluebird Care employees were recognised for their contribution over the past year to helping people to continue living independently in their own homes.
In accepting their awards, all three winners praised the supportive team environment within the Bluebird Care franchise network and spoke of the rewarding aspects of their jobs.
Team Member of the Year, Katy Cresswell, said: "Without the support of my colleagues I wouldn't have achieved all that I have over the last few years. Working for Bluebird Care has given me the opportunity to fulfil my life's ambition of being able to help people and really make a difference to them and their families. A career in care is one of the most rewarding opportunities I have had and I would encourage anyone to consider this career path."
At the awards, an independent panel of judges named Joyce Morton, from North East Lincolnshire, as Carer of the Year, while Valerie Holland from the Eastbourne franchise won Registered Manager of the Year and Katy from Bluebird Care Slough, South Bucks & South Wycombe won Team Member of the Year.
The three national winners were chosen from 18 regional finalists, who had been shortlisted from the thousands of Bluebird Care staff across the UK.
The Bluebird Care franchise continues to win national awards and this year won the industry's most prestigious award, the bfa HSBC Franchisor of the Year 2017. With more than 200 franchise offices delivering over 28,000 care visits a day, Bluebird Care is the largest provider of homecare services in the UK. Changing demographics mean that the UK's domiciliary care market is continuing to expand to meet the needs of an ageing population and Bluebird Care is set to continue to grow to meet the demand for homecare.
Duncan Berry, Bluebird Care COO, said: "To be able to highlight the fantastic work that is done on a daily basis by those members of the team is a privilege. Celebrating these efforts through the Bluebird Care Awards gives recognition where it is most vital, to those who deliver care on a regular basis. The stories of what attracted our finalists to the sector and sees them all highly engaged with our business are truly inspiring, they think nothing of going above and beyond to ensure Bluebird Care's customers maintain their independence in their own homes."
Commenting after receiving her award, Valerie said, "Winning the Registered Manager of the Year has made me feel proud, humbled and emotional for doing a job which is more a way of life than a job. I love the work that I do in helping customers to receive the care they need and deserve when no one else can. I hope to continue to learn and develop in a way that can only assist more customers to continue living independently in their own homes."
Joyce added, "I am feeling shell shocked and on top of the world! I feel so proud and happy to be a part of the Bluebird Care Team, with so much support."
In July, Bluebird Care was awarded Gold Franchisor of the Year 2017 at the prestigious bfa HSBC Franchise Awards. The judges praised the business' outstanding Franchise Support Centre, engaging company culture, and its commitment to innovation and franchising ethics.
In May, it was announced that Bluebird Care had won the Franchise Award for Innovation at workingmums.co.uk Top Franchise Awards 2017 and that Fiona Williams, director of operations at Bluebird Care, had been awarded the Inspirational Woman in Franchising Award for Encouraging Women Into Franchising (EWIF) 2017.
Mike Padgham, Chairman of the United Kingdom Homecare Association (UKHCA) and one of the judges of the Bluebird Care Awards 2017, said: "For me, the value of homecare and the work that people do can never be over-estimated. Working round the clock, in all weathers, shows a particular, special type of dedication that is rarely seen. It was a pleasure to help judge awards that celebrate homecare and the invaluable role it plays in improving the quality of life of our oldest and most vulnerable citizens."
SHARE: