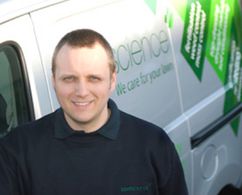 After over 20 years of employment, Scott Harrison left his job at a bank in 2010 and made the life changing decision that he simply couldn't tolerate working for somebody any longer, "I really wanted to do something on my own, on my own terms, and get away from others dictating my life'
Tired of the strict corporate expectations of his previous job, Scott began to look at different job opportunities and soon came across the idea of owning a franchise. Scott liked the idea of doing something 'hands-on' and working outside and so thought about lawn care.
He admits that it was a daunting decision to hand over the investment money, and people told him that it was a risk, but Scott never got that impression from Lawnscience:
"When you look at a franchise business and see that it has a proven model then the element of risk of starting your own business is significantly lowered. I saw that people at Lawnscience had succeeded before, and so this made it an easier choice for me. Now I can be the one to say - 'this works'!"
Scott began his training in 2011, and since then his business has steadily grown into a multivan operation with his own employee and 500 lawn customers. Scott's aim is to employ another worker in 2018.
"Employing someone comes with its own challenges but, at the same time, the benefits of it are huge. It gives you a resiliency and enables you to make more money."
Founder of Lawnscience Terry Nicholson gave Scott all the help he needed:
"At the different stages of your business, he knows what advice to give and what you need to hear at that time." He'll tell you straight, and this keeps you on the right path and brings you back onto the right line."
Terry's vast experience and depth of knowledge in both lawn care and the marketing field was invaluable to Scott.
Scott soon began to see that the way he ran everything really was on his own terms, "There were to be no more layers of bureaucracy for me; it really is like your own business and it can be so flexible."For Scott, this was key.
He is a family man with two children and so thanks to the flexibility of Lawnscience, he's been able to take his children to school near enough every day since 2011.
"Choosing a business to develop wasn't just about what the work gave me, but how it impacted my life too. Lawnscience has really helped with that elusive work/life balance." Another hugely positive factor for Scott was the fact that his business works on a protected postcode territory and so his work is created around his location. Yet again, this offers more flexibility.
Scott's negative work environment before Lawnscience makes him even more grateful for his current position; he describes running his own business as "liberating". The main piece of advice he would give to anyone interested in developing a business with Lawnscience would be to acknowledge a need for help and advice.
"Listen to Terry – if you do this he will give you a business model that really works." Scott stresses the importance of being willing to be told how to do things that will only benefit you in the long run.
"Listen to advice, follow suit, and boom - you'll get very happy customers.
SHARE: