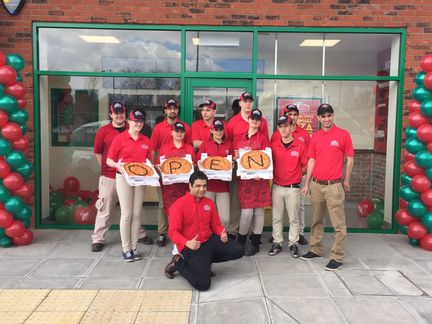 Leading pizza franchise, Papa John's, has announced franchisee Umar Malik, who runs more than ten Papa John's in South Wales, has opened his second store in Cardiff. Umar who was just 27 when he joined Papa John's three years ago, now employs well over 200 staff in his outlets in Cardiff, Swansea, Neath, Newport, and Llanelli.
"Many people are surprised to learn that Cardiff is the eleventh largest city in the UK," confirms Umar. "It's also a popular tourist destination, attracting around 18 million visitors each year! As a result, it's the perfect location for Papa John's. I opened my first store here in 2015 with help from a business loan from HSBC and since then, have gone from strength to strength. With the expansion into Cardiff Bay three years on, the team is now better positioned to satisfy demand across a wider area.
"To help open so many shops in such a short time, Papa John's put a good deal on the table," explains Umar. "The Company runs a special franchisee incentive scheme which offers some free equipment, reduced royalty fees and a helping hand with marketing as new stores open. This means, we were able to get up and cooking really quickly!
"Great pizza and excellent service is our recipe for success and our 'BETTER INGREDIENTS. BETTER PIZZA' promise ensures we continues to grow," continues Umar. "We only use 100% fresh dough plus the finest ingredients and customers always seem hungry for more! We are now delighted to deliver to more residents in Cardiff with our latest opening and look forward to serving-up our top-quality pizza to many more families, students and tourists across the Welsh Valleys as we continue to expand."
Papa John's is one of the largest pizza companies in the world and has opportunities for franchisees throughout the UK. Help is provided with location selection and full turn-key opening of stores. As a franchise, the Company supplies all the assistance needed to get your successful Papa John's up and running.
For further information please Click Here
SHARE: