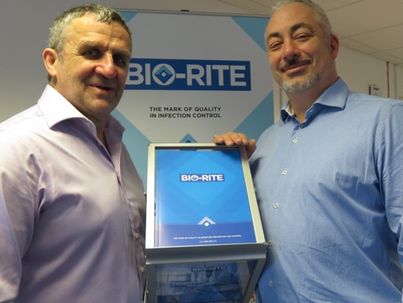 6 March 2017: Leading infection control company and franchisor, Bio-Rite, has announced it has extended its services to Scotland. Simon Grey and Graeme Sim new Bio-Rite franchisees for Scotland now offer the Company's comprehensive range of decontamination services to hospitals and care homes throughout the region.
"Bio-Rite's staff and franchisees have more than 40 years' experience in infection control management," confirms Alan Wright, managing director, Bio-Rite. "We provide a range of services including UV decontamination; community care equipment decontamination that treats over 250,000 items of healthcare equipment each year from our IS09001 accredited base: a hydrogen peroxide decontamination chamber with the capability to decontaminate a range of care equipment including hospital beds and their mattresses, in addition to mobile units. These adapted vehicles have been fully converted to enable Bio-Rite's staff to visit the NHS, Local Authorities, care and nursing homes to provide decontamination on-site.
"The demand has been such that we are now extending our offering nation-wide and we are delighted now to cover the whole of Scotland," continues Wright. "Using best practices involved with both manual and mechanical disinfection techniques, Simon Grey and Graeme Sim in combination with the experienced staff at Bio-Rite, will help address the challenges faced by healthcare providers trying to cope with the increasing threat from common infections such as MRSA, C.Difficile and Norovirus."
Graeme Sim, Bio-Rite Scotland comments: "We were surprised that outsourced infection control services were not already readily available in the area. We anticipate our rapid ward decontamination will be of interest to infection control managers within the NHS. However, in addition, we also look forward to working within care homes to help ensure infection free environments for residents too.
"We can decontaminate a single room in a care home or an entire hospital, including large communal areas," continues Sim. "Our offering can be fully tailored to specific needs and we can take care of the whole process from performing the room pre-clean, cleaning of the equipment and furnishings in addition to the 3D air and surface decontamination process. Alternatively, we can simply perform the final decontamination stage. We can also provide staff training to use our products as part of preventative measures against potential future outbreaks of infection.
"Our flexible approach, products and training offer peace of mind but can also result in significant savings on expenditure," confirms Sim. "As well as a 24/7 hot-line response team, Bio-Rite can also contribute to avoiding a major outbreak of infection and as a result, protect patients."
Bio-Rite is a British Franchise Association (bfa) Provisional Member and staff and franchisees are members of the Infection Prevention Society (IPS). For further information please click here.
SHARE: