Newbury-based franchise business is ready to sweep Marlborough off its feet after celebrating three-years of eco-friendly housekeeping!
---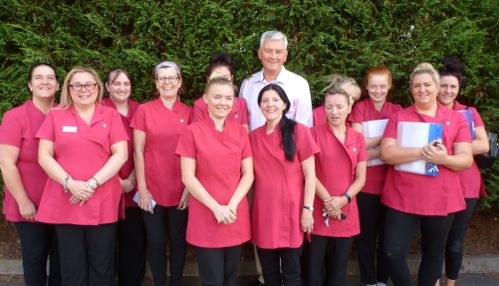 -
Newbury-based franchise owner, Mike Sheene, marked his three-year anniversary of running his professional domestic housekeeping business, Bright & Beautiful, by celebrating the business' expansion into Marlborough.
Since taking over the business in 2016, Mike has doubled his workforce and now employs 30 local professional housekeepers, all DBS checked and working in teams of two and three to ensure reliability and client peace of mind. They provide a bespoke and tailored service that offers cleaning, tidying, laundry and ironing to the highest standards of security and service.
In addition to the substantial growth of his trusted team, Mike continues to scale the business by expanding into Marlborough and surrounding areas. Since the beginning of May, Mike has acquired more than 14 new clients from the Marlborough area, increasing his total monthly cleans to approximately 300.
The business is set to continue to grow over the coming years, with plans in place to move into a second premises in Marlborough.
Mike said: "I'm so proud to be celebrating my third year in industry and to have built a business that is recognised as one of the largest domestic professional housekeeping services in Newbury. Through our expansion, I'm thrilled that our first-class service will now be able to reach even more people across Marlborough and surrounding areas.
"The push into Marlborough has not only allowed us to reward our current staff with several internal promotions but has also meant we now have the capacity to welcome even more people into our ever-growing family of professional housekeepers. It's fantastic to be able to create employment opportunities for local people and to be delivering an exceptional service at the heart of the community."
Based in Newbury, Bright & Beautiful covers Marlborough, Thatcham, Hungerford, Lambourn, Pewsey, Kingsclere, Greenham, Speen, Kintbury, Chiseldon, Chieveley, Highclere, Ramsbury and surrounds. To get in touch hit 'request free info' to day!
-
- ENDS -
-
---
Acquired in 2017, Bright & Beautiful is one of the trade service brands for Neighbourly, formerly Dwyer Group, and is an award-winning professional domestic housekeeping franchise with 65 franchise owners building their own local business. In ten years, the managed service-based franchise, which provides eco-friendly cleaning, tidying, laundry and ironing with the highest standards of security and service, has created over 600+ jobs and delivered more than 120,000 home cleans per year.
SHARE: