CAMILE THAI SET TO OPEN FIRST UK FRANCHISE IN TOOTING BEC
---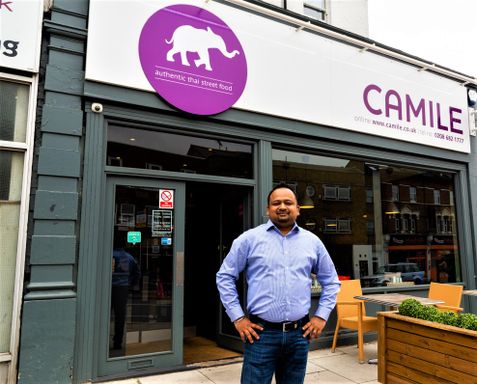 -
Camile Thai is proud to announce Rakesh Gopalakrishnan as the first owner of a Camile Thai restaurant franchise in London. Camile Thai has over 20 restaurant locations across the UK and Ireland and is known for its healthy Thai food, delivered expertly to its customers. With over 19 years of experience within the hospitality industry, Rakesh has an intimate knowledge of the store he recently acquired, as he has been managing it for over a year. We spoke with Rakesh to find out a little more about this exceptional man.
-
Where were you working before Camile?
-
My last job before joining Camile was as a Multi-Site Manager at a chain of restaurants based in London. Prior to that, I worked as a General Manager in London's West end with a group of Thai restaurants. Although I started my career working in hotels, most of my experience comes from managing high volume restaurants across various parts of the country.
-
What about Camile attracted you to the job?
-
I've worked in high-end Thai restaurants before, so I was familiar with the cuisine, but what attracted me to Camile was the health-focused, community-oriented, dynamic nature of the role. I could see a huge opportunity with a lot of space to grow and experiment. Camile does bring a lot of life and creativity to the concept of management. I decided to take on the franchise opportunity so I could fully realize what I wanted to do with the business. The support that I have has never been matched by another employer, in terms of one-to-one contact and interaction.
-
What is the secret sauce to being a Camile Thai franchisee?
-
Lots of hard work, energy, curiosity and eagerness are the key factors. You have to be hands-on, lead by example, and manage your team from the front. I always try to bring positive energy, and passion, and I'm not afraid to ask questions or implement new ideas.
-
Hungry for more information on Camile? Hit 'Request Free Info' to get in touch direct!

SHARE: