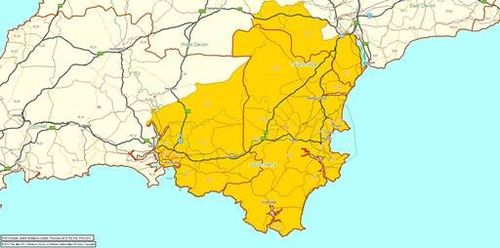 18 April 2017: Leading greeting card publisher and franchisor, Card Connection, has announced it is marketing its Plymouth franchised territory. Plymouth represents the chance to purchase an established growing business in a good area. The new franchise owners will deliver and merchandise Card Connection's extensive range of quality greeting cards and accessories to around 125 established retail customers in the region.
Card Connection franchisees supply greetings cards and accessories to retail outlets on a 'consignment' basis. This is one step beyond 'sale or return' as retail customers don't have to buy the stock initially; they only pay for what they sell. This proven, award winning business model has enabled hundreds of franchisees to run successful businesses over the past two decades.
"We took over the Plymouth franchise as a managed Card Connection business last year," confirms Michael Johnson, managing director, Card Connection. "This was an unusual step however, due to personal reasons, the existing franchisee was unable to continue running the area and so we stepped in to help. The territory had previously been well-run and figures were up about 6% when our staff took the area over. We employed the existing greeting card merchandiser and followed our own manual and systems to the letter. We are now pleased now to report sales are up by a further 10% in the past 12 months.
"During our time managing Plymouth we have added more retail National Account customers and developed business within existing independent retail customers' stores," continues Johnson. "We also piloted our new iPad based hand-held terminal App which streamlines admin and makes tasks such as stock checking and invoicing easier for franchisees. Now the Plymouth area is on the market it offers the perfect opportunity for an enthusiastic new franchisee to step into an established and thriving greeting card business, making money from day one.
"The franchise would suit a hard-working individual or couple who are looking for the flexibility and benefits of self-employment, who live in or near Plymouth," continues Johnson. "Card Connection will supply all the training necessary plus a detailed hand-over and introduction to the retail client base which, will ensure the new franchisee gets off to a great start. Ongoing support from our dedicated regional sales manager will mean the franchisee has every chance to continue to develop the franchise."
The Plymouth franchise is a compact area which covers Plymouth, Paignton, Newton Abbott, Torquay and the surrounding area, has been trading since 1993 and has a turnover of £70k. Goodwill, stock and display equipment is included in the purchase price and Card Connection is recognised by all the major banks' franchising departments and therefore funding is available subject to status.
Card Connection is part of UK Greetings, which is a subsidiary of American Greetings Inc., one of the largest greeting card publishers in the world. Since the franchise network in the UK is complete, the available opportunities now consist of acquiring an already-established territory from an existing franchisee. These vary in price according to their level of development, but start at £12,5k + Stock + Card Connection fee with earnings potential in excess of £50k per annum.
Territories currently available include: Plymouth, Brighton, Bath, Northampton, Liverpool, Macclesfield, Fife, Edinburgh/Scottish Borders, Stirling and South West Ireland.
SHARE: