Enitan has a background in facilities management, awarding contracts and ensuring the standards and quality of cleaning are achieved and maintained. Although already familiar with some of the ins and outs of the cleaning industry, Enitan's Jani-King cleaning franchise is her first experience of running a business.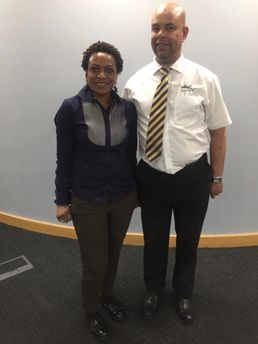 Enitan wanted to start her own business as a way to gain more control of her own time, but recognising that she worked best in a structured environment, she decided to seek out a pre-set up venture that she could just run with. With her knowledge of the high, consistent demand for commercial cleaning services, she decided that a Jani-King franchise was the logical way forward.
"What drew me to Jani-King was the guaranteed offers of business. I also thought that the promised returns were very encouraging. This gave me the assurance that once I signed up I would achieve my objectives without having to search high and low for contracts."
Enitan bought into Plan 10 to enable her to 'hit the ground running' and be fully involved from the start in aspects such as delivery so that she could learn all aspects of the business. She believes that her passion will help the business grow and hopes to become one of Jani-King UK's most successful franchises in the near future!
"I have encountered only true professionalism from Jani-King up to this point. Will Gavan was genuine and took his time to explain the franchise process, encouraging me to start thinking like an entrepreneur, which was music to my ears! I am really looking forward to a mutually beneficial franchise/franchisee relationship with Jani-King."
SHARE: