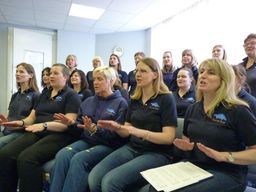 Many people get to a point where they want to make changes in their working life –maybe due to family circumstances, redundancy or a simple desire to do something different. Lots of people dream of running their own business - but never feel quite ready or certain enough to take the leap. Here at Musical Bumps we have seen people come from a wide range of backgrounds – some are semi-professional musicians, others are women who have taken a career break to have children and are looking for a new direction or something which fits around other commitments, others have joined from school teaching or have been working in early years, at least one comes from a business background (but with a love of music) and another has come straight from graduating with a music degree (and was our youngest ever at that time).
So what are the advantages of buying a franchise?
To start with it's a ready-made business with a tried and tested model with established systems, policies and procedures in place that work for the particular business.
Secondly there is an established brand and marketing strategy. Anyone starting a new business would need to spend a vast amount of time, money and energy in developing branding but, by buying into a franchise, it's already done for you and is a recognised brand! Many would-be business owners are highly skilled in a particular area of expertise but may not understand anything about marketing a business and this is where you can get a lot of help and advice from the head office team.
For many people one of the biggest advantages of being part of a franchise is the reassuring support network and feeling of being part of a team. This is really important in terms of support when you are launching your business and exchanging ideas as your business grows. Although you are in business for yourself, you are not by yourself and you have access to the experiences and advice of a network of individuals on a similar journey.
If you are investigating buying a franchise find out what the franchisor offers you in terms of training? At Musical Bumps all our franchisees follow an eight step online training programme before they start running classes. This provides them with all the information they require to set up and run their business, to advertise and market business and to run successful classes. We also hold regular training sessions where all our teachers come together to exchange ideas and learn new things to help them with their business. These are always lively and interesting events full of energy and inspiring ideas and strategies!
When considering a franchise, some people are worried about the restrictions that might be put in place in them running their business. This is a real problem with some businesses - a standard "package" is often part of a franchise's success, but can leave little room for creativity. Musical Bumps recognises that everyone is different and we recognise that our teachers will want to add their own twists to classes. Although we provide lesson plans for classes for each of our age groups, our franchisees (we actually call them licensed teachers) can adapt them to incorporate their own personality and style into their classes. This is something to consider when investigating different franchise companies.
If you've decided that buying a franchise is for you then read on.
What should you look for?
There are hundreds of franchise businesses out there so how do you decide what's right for you?
Do you have a particular interest? Do you have a specialism or previous experience in an area that you feel would be put to good use running your own business? Have you always dreamt of working in a particular field?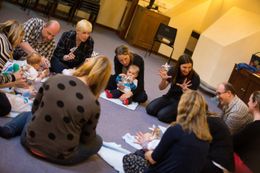 Once you have decided on the field of business you are interested in, it's worth drawing up a short list of companies and contact them to request details. This should then lead to some discussions or meetings with the business owner and yourself so that you can find out a little more about each other and both parties can ensure that you are right for the business and the business is right for you. It's also worth visiting to see the actual business in action if this is appropriate. You want to make sure that the head office team are approachable and knowledgeable.
One of our newest licensed teachers says "When I was looking into early years music franchises, I researched around 25 similar companies that exist in the UK. I had a long wish list of things I was looking for including a really music-based curriculum, a mix of old and new songs, a good training programme for teachers, head office support, value for money and a well-established brand with a proven track record. So after phone calls with my top ten companies, and visits to observe classes at my shortlist of five, Musical Bumps was a clear winner!" Of course, Musical Bumps might not be a clear winner for everyone – and that's fine. The business has to suit you, and you have to suit the business – it's a two-way relationship that needs to work really well!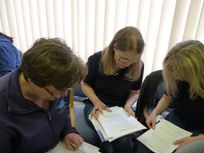 Musical Bumps is a specialist franchise business – anyone considering joining us must have a passion for early years music education, a confident singing voice and be willing to work with young children and their families. It goes without saying that they also need to have the enthusiasm and self-motivation to run their own business and the right personality. We are not just interested in selling franchises to make money – we want to make sure it's right for a prospective purchaser and they are right for our team.
Biggest isn't always best!
SHARE: