Drain Doctor Bristol, Lending a helping hand!
---
Bristol based Drain Doctor, the UK's largest drain clearance and emergency plumbing franchise business, lent a helping hand for a third time to a newly adapted home in Barnstaple, Devon, for a family to be featured on BBC DIY SOS.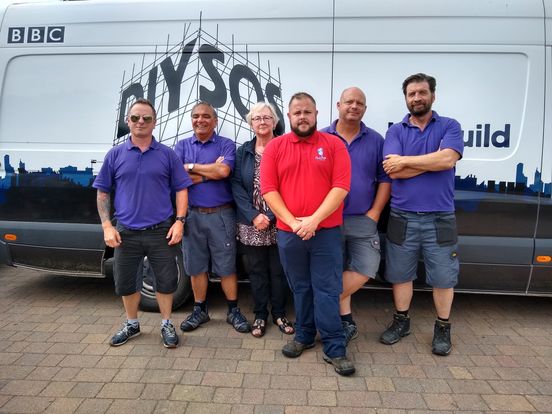 Image: Andrew Price and Cynthia Crawshaw, of Drain Doctor, met Nick Knowles and his DIY SOS team at the DIY SOS Big Reveal on the 1st August 2019, to present the well-served family with their newly adapted home in Barnstaple.
Based in Bristol, Drain Doctor attended the Big Reveal on 1st August to welcome the well-deserved family into their new home. They also had the opportunity to meet the family, as well as Nick Knowles and his DIY SOS team.
The program, which is due to be broadcast later in the year, involved Drain Doctor carrying out a CCTV drainage survey before the rest of the work started.
Carl Butterfield, Director of Drain Doctor Bristol said: "It's been a huge pleasure to have donated our services yet again to another worthy cause. Despite being based over two hours away, we're thrilled to have been involved in this project and are very touched to have played a part in creating a positive impact on the lives of these amazing families.
"I can't thank my technician, Andrew Price, enough for the hard work he has put in over the time he was on site. The Big Reveal was very emotional for everyone and it was great to meet the family who are now able to start rebuilding their lives thanks to the army of local tradespeople involved. We look forward to partaking in more build projects in the future and hope to come to the aid of even more families in need of assistance."
For further information about Drain Doctor and the services it can offer, hit request free info to get in touch directly!
-
- Ends -
-
About Drain Doctor®:
Drain Doctor is the UK's leading full service combined commercial and domestic plumbing and drainage organisation with franchise owners operating in over 60 locations, providing a national service across the UK. In 1993 Drain Doctor was established in the UK under a Master Licence agreement was then reacquired by Dwyer Group in 2014.
SHARE: