PRESS RELEASE
~ For Immediate Release ~
-
Over 140,000 members and 1,800,000 gym-goers per year, low-cost gym franchise 'Energie Fitness' is now looking to expand into Scotland!
The well-established market leader in the low-cost gym franchise market, differentiates itself by the substantial focus the company places on customer service. The aim is to provide an affordable and personal service to all customers, ensuring they enjoy their experience and come back. highly trained staff are on hand to assist with your workout and customers receive a warm welcome from their gym host. With a range of classes and memberships customers have the choice of what suits them! Energie Fitness was one of the first in the UK to offer low-cost no contract concept; which has proven to be a winning combination.
The number of UK gym members is increasing every day! Currently over 14% of the UK's population is a gym member with 25% of young contributing to this figure; mainly down to the rise in awareness of keeping fit and active. As a result the gym market is now one of the fastest growing in the UK, particularly in the franchise sector.
-
"At Energie fitness we know what we are and we know what we want to achieve. We are a market leader in gym franchising, both in terms of members and in terms of service. The success we have achieved is purely down to our business model; we make gym membership affordable but also give people top quality customer service ensuring they enjoy their experience and want to come back".
-
"How do we do this? Basically we listen to what our members want and give them choice. People want a gym constantly manned, where they are welcomed by a friendly face who can assist them if needed. Gym-goers want assistance from well-trained staff who can give them tips, encouragement and ensure they get the most out of that short window they have set aside to workout. Members also want well-run fitness classes at convenient times and want enough of them that they do not have to put their name down weeks in advance. On top of this we have a multi-tier membership which means they do not have to pay for services they do not use. Choice and innovation is key, other low-cost gyms simply don't provide this level of service."
-
"The statistics tell us that gym membership is increasing all the time, among all age groups especially young people. As a result, as these people get older the number gym members can only go up. So combine the exploding demand with the unparalleled level of service we provide and I am convinced this is the perfect time to invest in an Energie Fitness franchise."
Matt Roberts (MD), Energie Fitness Scotland
-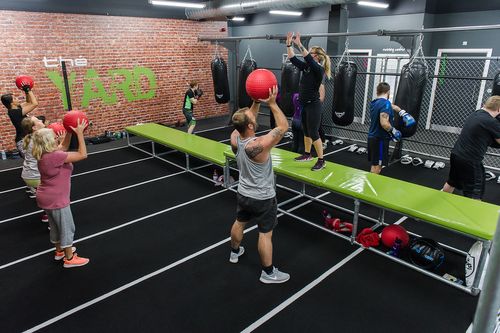 -
You don't necessarily need to have a gym or franchise background just the ambition to succeed. Energie Fitness Scotland is looking for franchisees who have a real drive to be their own boss and have the right commitment to push the business forward. In return, franchisees will receive unparalleled support, with a dedicated highly-skilled and experienced team based in Scotland. Full in-house training will be provided including, shadow training in areas such as; sales, customer service, leadership, fitness, marketing and IT, only when every training box is ticked will franchisees be allowed to open. Franchisees will gain full assistance to find premises in suitable high footfall areas, and will be benefit for Energie's extensive commercial contacts throughout Scotland.
Matt Roberts (MD) adds, "We won't be offering this opportunity to just anybody, it is essential that we find the right people who share our vision, commitment and drive for betterment. Our whole business is centred around excellent customer service and this has to continue. For the right person this is a great opportunity to create a successful high-demand business with huge potential".
Energie Fitness is looking for both individual franchisees who may be looking to open a business as a lifestyle choice, or multi-site franchisees who have the vision to open a chain of gyms. Potential franchisees must have minimum liquid cash of between £95,000 to £125,000.
-
--- ENDS ---
-
SHARE: