Last week, the annual Business Excellence Forum & Awards took place at Harrogate International Centre. The biggest and best yet, with over 1,000 coaches and clients in attendance at the UK's premier event of its kind, sponsored by NatWest and ActionCOACH.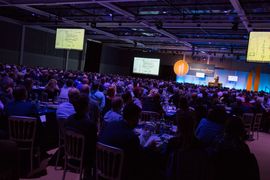 The Business Excellence Forum exists to recognise and honour the innovation, passion, risk-taking and results of some of the best companies and business owners in the world. It brings together a like-minded community of entrepreneurs to share ideas, build relationships and learn from some phenomenal success stories. This year we invited 7 world-class speakers from Australasia, the Americas and the UK including the founder of the business coaching profession, Brad Sugars. Filling our programme with breakthrough content, once the forum had concluded, every single delegate left with multiple actions to grow their business.
On day one, Professor Steve Peters entertained us with examples of our inner chimp whilst Baroness Michelle Mone spoke about the hurdles and successes of business ownership. Australian, Richard Maloney took us through his experiences of increasing employee engagement by fixing the heart of your business and Brad Sugars led a fast-paced session on business growth through productivity and performance.
Christopher Watkin is a business owner and, with the guidance of his ActionCOACH, has become a lettings agency growth guru. This was his second time at The Business Excellence Forum, "The conference was a cocktail shaker of words of wisdom, enjoyable speeches and awesome learnings. Brad Sugars is a true leader and gave me so much to take away for my business."
The Business Excellence Awards celebrated the last 12 months of client achievements at a black-tie ceremony. Sixteen awards were given, ranging from Best Company Culture and Best Retailer through to CEO of the Year. For those award winners, it was a chance to celebrate and for everyone else it was something to aim for in the next 12 months.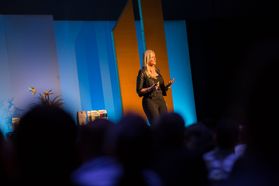 Dr Marshall Goldsmith kicked off day two with an inspirational session on leadership. Every delegate was out of their seats, offering advice to each other; proving that leadership is a contact sport! Black Box Thinking author, Matthew Syed, explained the importance of mindset and learning from the past with some fascinating stories from the world of sport. Philip Hesketh was the final guest speaker and was back by public demand after he wowed the delegates of 2014's Forum. Philip shared several of his business growth practices including the formula for reputation, 5 things to save and make money, his secrets to excellent customer service and all you need to know about time management.
John Cottrell has been an ActionCOACH for nearly 10 years and recently won EMEA Executive Coach of the Year 2017, an award that considers business coaches across Europe, the Middle East and Africa. He recommends this yearly event to all his clients, "It's not just about the speakers, business owners get fresh ideas and a passion for growth from everyone they meet. The networking opportunities can bring new clients and each interaction is thought provoking and useful."
Would you like be at 2018's Business Excellence Forum?
SHARE: