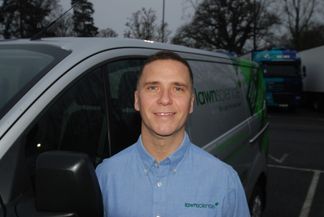 For many people, managing your own department within a prestigious motor dealership would be enough, but not for David Stewart – a young man with a mission. Whilst his work was both well paid and secure, David wanted more control. Firstly, having a young family meant he wanted further control of his time. He desired the flexibility to choose when and where he worked. Secondly, he wanted more control over his financial income. He wanted to set his own income level, and not have to rely on others in order to provide for his young family. "I knew that in order to take complete control over my income and working life, I would have to work for myself, rather than working for others. However, choosing a business to start on my own was not that simple," comments David.
Then inspiration came in the shape of a small worm…
David had always taken great pride in the appearance of his garden, particularly his lawn, so imagine his concern when one morning he observed a cluster of worm castes on his lawn. "It was really annoying! The lawn was looking great and then all of a sudden worm castes appeared everywhere. I searched for a solution online and discovered that there were specialist lawn care businesses that specialised in providing lawn care services."
David investigated the lawn care market and stumbled upon Lawnscience. Over the next few weeks David received information from Lawnscience, explaining the pros and cons of starting up and running his own lawn care business. Not before long he was hooked on the idea.
"I was initially most drawn to Lawnscience because Terry supplied me with lots of information from the start, which helped me to understand the business. Another great advantage to Lawnscience is that they gave me the opportunity to create my own bespoke trading territory, something which most franchisors could not have done. Having met with Lawnscience on several occasions to discuss their business and the way in which they operate, my mind was made up. This was always going to be a daunting decision, but I was given the opportunity to speak with all of the current franchisees about their experiences, which gave me the confidence to take the leap into self-employment," recalls David.
"After my three week initial training, my marketing plan fired into action and the phone rang and rang and rang. Today, after only 7 months of trading I have already surpassed my first years sales target by over £10,000, and the year is far from over. The demand for my services has been so great that I have had to take on a temporary employee to help me cope with the work and it's still coming in! I can see myself quickly developing the business into a multi-van operation within a year or two."
Any regrets David? "Occasionally I miss the banter I used to have with the lads at work, but building my business and new life for my family has been more rewarding than I'd have ever imagined."
SHARE: