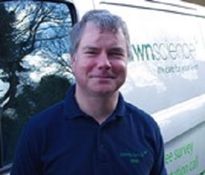 Dean Goodall happily spent the last eighteen years working to build up his own successful recruitment business. However, a few years ago, his core market, being financial recruitment, was going through a period of major change which would necessitate Dean restructuring his business. Whilst fully capable of repositioning his recruitment business, Dean saw this period of change as an opportunity to take a look at other options.
A visit to a franchise exhibition introduced Dean to the lawn care business,
"I loved the concept right from the start. Gardening had always been a hobby of mine, but it was the business opportunity that appealed to me over anything. The more I thought about it, the more appealing the idea became. I started my search by meeting with the five main franchising players within the lawn care industry. I was just about to make my decision, when I heard about Lawnscience, almost accident. My mind was made up after about three minutes into the meeting with Terry Nicholson. Whilst the other operations focussed on 'green keeping', it was clear that Terry approached the business from a completely different angle. He was a marketing man, and he really understood the potential of the business. It was this focus on marketing that set Terry and Lawnscience apart from the other franchisors that I was considering. Having started up a business myself, it was obvious that Lawnscience had developed the most comprehensive marketing strategy in the UK lawn care business," comments Dean.
Having made the decision to join Lawnscience, Dean started working with Terry to tailor make the perfect territory in which Dean would begin to operate his new business."I knew that having the right territory was pivotal to the running of a successful and efficient business. Lawn science's practice of creating bespoke territories for each franchisee was a great solution. It meant that I was in control of where I would operate my business, instead of having a pre-designed territory imposed on me. Within a few weeks, I attended the training course and launched my business. Was I apprehensive? Of course I was! It was a completely new field of business for me, in which I was a complete novice. Fast forward to today, having launched my business three years ago, I have my first employee. Next year I will focus on consolidation, and the year after that will see me focus on expansion where I aim to take on another employee," recalls Dean.
Having made a very successful transition from recruitment to lawn care, what advice does Dean have for those thinking about making a change to their working life?
"Make sure that you fully understand the business you are looking to start and, more importantly, make sure that you choose a franchisor that you can trust. That trust is critical to building your business and making it successful." Advices Dean.
If you would like to find out more on a Lawnscience franchise, please Click here.
SHARE: