As cat owners in America begin to celebrate National Cat Day OSCAR Pet Foods couldn't resist the temptation to join in too.
Created by Colleen Paige in 2005, National Cat Day - 29th October - is designed to raise awareness of the number of cats that are rescued each year and to encourage cat lovers to celebrate their beloved pets.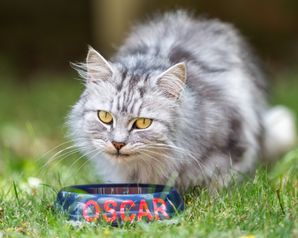 OSCAR believes everyday should be National Cat Day for our affectionate, curious, independent and playful companions. The mystery of what makes a cat tick is what makes them so endearing. In return for us giving them a safe and happy home cats bring a sense of calm and peacefulness to benefit human's health.
Being a responsible pet owner is a lifetime commitment. Cats need more than just food and shelter – they need to have humane treatment and a proper standard of care and companionship.
All cats are inquisitive and from an early age kittens are fearless. This helps develop their hunting ability, which is generally inherited from their mother. They form a pattern of selectiveness, so as kittens mature to cats they develop their own specific eating habits. For example, some become fussy eaters, eating when they want and preferring small portions – a 'little and often' approach.
Because a cat's instinct is to go back to nature and hunt fresh prey, its eating habits keep us guessing. Not knowing if and when their last meal hunted, together with their fussy eating habits present us with a dilemma of what and when to feed.
OSCAR Pet Foods go the extra mile to fill the gap in pet nutrition and when it comes to feeding cats you can rely on the comprehensive selection of cat foods, dry or wet, being one leap ahead of the cat.
All OSCAR cat foods are free of artificial colourings, flavourings and preservatives and are formulated to help reduce the risk of urinary stones. They also contain prebiotics to maintain a healthy gut. The fully balanced, complete foods that provide a wealth of nutritional benefits from kittens through to old age are specially packed to ensure they stay as fresh as the day they were made.
Containing air bubbles, OSCAR complete cat food has been specifically designed to satisfy the 'ease of crunch' that cats prefer. The ranges of Adult and Adult Care foods contain Stay-Clean to assist with dental health. Acting like a mouth-wash, this clever ingredient helps reduce tartar and plaque build-up.
Tit-bits and tips for cats from OSCAR...
Can you cope with owning a cat? Make sure you're not allergic! Research is key and consider speaking to a vet or an OSCAR Nutritional Advisor – you need to be prepared.
Make sure there is room for the cat to share your home and your lifestyle. Cats like company and sometimes long days home alone would be better shared with another cat. Multiple-cat ownership is on the increase.
Security is important - collar, contact tag, microchip and pet insurance. Products are available from OSCAR PetXtra. Ask your Nutritional Advisor about microchipping in the comfort of your own home.
It is advisable to register your cat with a vet. Start as you mean to go on, including, annual vaccinations and regular preventative health care. Preventative health care is also available from OSCAR and can be delivered direct to your door.
Cats know about cleanliness and a nice clean litter box is essential – quality feeding helps to reduce the amount of waste. Ask OSCAR for details.
Playtime is healthy and fun and OSCAR toys and treats will keep cats physically and mentally occupied and help with behaviour and training control.
Cat's love using the sofa for more than just somewhere to snuggle – it makes a great scratching pad so be prepared.
Last but not least groom to bond! Grooming for kittens – start early to make it fun not fearful.
"What greater gift than the love of a cat?" - Charles Dickens
SHARE: