REWARDING SUCCESS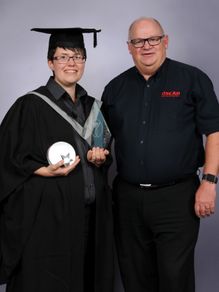 Huge congratulations to Samantha Parkes for winning the OSCAR Pet Foods sponsored prize for the 'Top Nutritional Portfolio'. A glass plaque and a cheque for £250 has been awarded for her achievement in gaining a Foundation Degree (Fdsc) in Animal Studies - Welfare of Animals (Health Care Management) at Lancashire based Myerscough College.
OSCAR is first and foremost at the front of pet education and annually sponsors a successful student from Myerscough College. As one of the UK's largest land-based and sports colleges, it offers degrees in more than 20 subjects, one of which is animal studies.
Leaving school, looking for an alternative in university study or wanting to develop your career, there's a course for you at Myerscough College. The courses offer some of the best practical teaching facilities in the country. It's all part of an ongoing multi-million pound campus development programme.
But if you know your specialist subject and want the instant opportunity of working with animals alongside an educational qualification, then OSCAR Pet Foods is a franchise truly worth considering. The principle of an OSCAR franchise is to initially educate pet owners on what to feed their pets through its own brand selection of high quality foods and a personal home delivery service from experts in the business.
Training for Nutritional Advisors has always been comprehensive but keeping abreast of the industry, and unique to OSCAR, the programme now includes further education in the form of an Ofqual qualification in Companion Animal Nutrition to ensure a higher level of expertise, and even more credibility to advise clients about pet nutrition.
Working with the Centre of Applied Pet Ethology (COAPE), a course has been specifically written for the OSCAR franchise network. With recognition throughout the national education system, gaining this certification allows franchisees to use the designated letters CertCan (QCF Level 3) after their name. The syllabus includes diets and feeding regimes as well as the combination of nutrition for health and disease and the effects of nutrition on behaviour.
OSCAR Pet Foods' commitment to training and education is a franchise that provides qualified and professional knowledge to help cement long-lasting brand loyalty and a more profitable business.
SHARE: