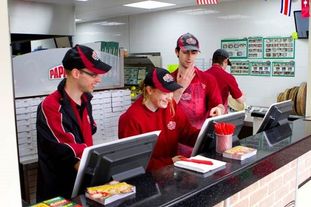 Leading pizza franchise, Papa John's, has announced the opening of its second store in Hull. Franchisee Rohit (Rocky) Pahwa and his brother Lohit joined Papa John's and originally opened-up in Hull in 2016. The pizza loving duo's second store, which now covers the East side of the city, is located on the Gateway Retail Park on Holderness Road and will employ more than 25 local people.
Rocky explains: "We chose Papa John's as it offers the best product and service available. I used to work for a rival firm and so understand the importance of a quality offering. Papa John's concept of: BETTER INGREDIENTS. BETTER PIZZA. means we only use fresh dough, never frozen, which gives a better flavour. It continues to prove popular and means we always serve up the best pizza in town!
"To take advantage of the growth opportunities resulting from Papa John's growth, we have recently needed to re-locate from Bristol to Hull," confirms Rocky. "The people from Hull have been particularly welcoming and within seven months we have needed to double-up and deliver on this second store in-order to meet demand!
"The new location is great as it is a real retail 'hot spot' featuring other major food brands including McDonalds, KFC and Subway close by. Free parking is also another key ingredient that will make it easy for customers to keep coming back for more!
"The expansion has been funded through a business loan from HSBC's franchising department," explains Rocky. "HSBC's relationship manager Nick Saville was impressed with our quarterly reports and so gaining funding for the second store was straight forward.
"Papa John's currently runs an incentive scheme for franchisees opening new stores," continues Rocky. "This has also been helpful as it offers assistance with marketing, some free equipment and discounted royalty fees when starting out, right when you need it. We are really excited to be opening Hull two and with the help of the incentive scheme, have plans in place to open further Papa John's in the region before the end of 2017."
Papa John's now has over 350 stores across the UK and more than 5,000 around the world and is actively recruiting for more enthusiastic franchisees hungry to become part of the Papa John's success story. Help is provided with location selection and full turn-key opening of stores. As a franchise, the Company supplies all the assistance needed to get your successful Papa John's up and running.
SHARE: