Tell us a bit about yourself and what you were doing prior to buying a franchise business?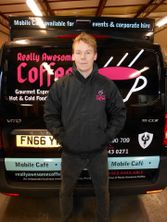 I've always worked in the hospitality industry from working in bars to managing coffee shops and pubs. Although I had that little bit of experience, the mobile coffee market was completely new to me.
Why did you go down the franchise route? What made you choose the coffee industry? And why Really Awesome Coffee?
I chose the franchise route because of the support and knowledge Really Awesome Coffee bring to the table. I always wanted to run my own business but I wanted to hit the ground running instead of building completely from scratch, and in 8 weeks of trading I think I have. I chose the coffee industry because I've ran coffee shops in the past so I have that little bit of experience. I knew there was good margin in coffee plus I love to drink it myself.
How was the training and support that you received initially and ongoing?
The training was very good and the ongoing support is excellent. I worked with my Franchise Develop Manager who saw my through the whole process.
The training is tailored to your needs. For example, when I had my training I was still managing at the pub I was working at so I had to break my training up. I was also doing some night shifts after a full day of training at Head Office. It was a long week but all worth it in hindsight.
What is a typical day for you as a franchisee?
When I first get up I have to hook my van up to the mains and get set. I then cook my hot food in the pie heater. I check to make sure I have water, coffee and LPG gas, once sorted I set off to my first stop in Quinton.
I like to do my little 'stay away' rain dance. It makes my life a lot easier if it's a dry day but even if it does decide to rain, the rear awning on the pull pulls out in seconds keeping me and my customers
What challenges have you faced?
It's been ok actually, I would say maybe working out what stops are not working and cutting off stops. But the team at head office assist with this because the ePOS system tracks data so it can tell you exactly which ones are not worth your time, it's fantastic and I'm learning to read the data myself.
Of course the training was a challenge for me only because I was still working while going through it. The guys were flexible and understood my situation and adapted to help me.
Has becoming a franchisee changed your life, if so how?
Yes, it most certainly. I have a lot more time at home now. Before I was working most weekends and most nights which weren't great, especially when my girlfriend is a teacher so we were working opposite shifts. I now have a better work-life balance. Also working for your self is a big motivator.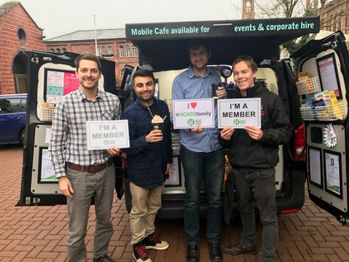 really
What are your new customers like?
I have a lot of regular customers now. It always makes them feel special when you start making their drink before they have even got to the van. They say "how do you remember?" and most of the time I say "lucky guess", it always gets a laugh!
What is the most invaluable piece of advice you could give someone looking to buy their first franchise?
Make sure you do your research and ask as many questions as you can think of. I went to the Really Awesome Coffee discovery day evening so I was open to meet the team and get all the details in full in a non formal environment as such. I would recommend going to one 100%.
Also be prepared to work hard, it's your own business so you have to but the rewards are there. It's satisfying being your own boss.
In your opinion, what makes a successful Really Awesome Coffee franchisee?
Firstly, hard work. Don't let the quiet days get you down because that's just the way any business goes, it always balances itself out. You also need to be good with people and have good personable skills because you're dealing with the customers all day long.
What are your plans for the future with your business?
I am planning to develop the round and build it up with more sites. I also want to do more big events so I am currently applying for them. Who knows this time next year I'll be a coffee millionaire (laughs).
SHARE: