Love performing arts but never had any formal training in dance, drama or singing? There is a wonderful opportunity for aspiring performing artists with The Stage newspaper to win a year's place at a local Razzamataz Theatre School.
The Stage is the only weekly newspaper for the performing arts industry and it has been in publication for more than 135 years. This is the twelfth year that Razzamataz has been working with The Stage to offer a prestigious scholarship to a young person equating to more than 100 hours of exceptional performing arts tuition.
Lisa Martland has been a journalist with The Stage for more than 15 years. She is instrumental in creating the editorial around the scholarships. "The Stage Scholarships offers a young performer unprecedented publicity in the newspaper, bringing them to the attention of leading producers and casting agents," says Lisa. "These young stars will feature in the publication's bumper Christmas photoshoot and YouTube video of the event. Plus a selection of Razzamataz winners and franchisees will be invited to attend the prestigious Stage New Year party, meeting with some of the biggest names in British theatre."
Razzamataz was the first part-time theatre school to participate in the scholarships and is incredibly proud to have been able to offer many youngsters the chance to experience training in dance, drama and singing.
"Some of our scholarship winners have never had any previous formal training but we spotted raw talent in them and knew with the right training, they could go on to be very successful," says Denise Hutton-Gosney, MD and Founder of Razzamataz. "In fact, many of our scholarship winners are now gaining places in prestigious performing arts colleges and appearing in professional TV and theatre work."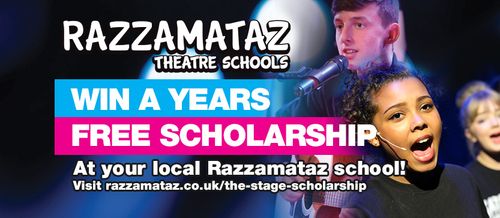 It doesn't matter whether you have been attending Razzamataz for years or if you have never tried performing arts classes before, the scholarships are open to all children from the ages of 8 to 16. The scholarship prize is worth up to £800 and the boost of confidence it will give to a youngster is immeasurable.
At Razzamataz Maidstone, last year's winner Neve Cornford, age 10 was over the moon when she found out that she was selected as the winner. "When I received the call that I won the scholarship from Charlotte I could not believe it," says Neve. "Ever since I was little, I have wanted to sing, dance and act. Never in my wildest dreams did I think that I would achieve something like this. Thank you Razzamataz, and thank you to my Principal Charlotte for all your help, faith and support ever since I started this amazing journey."
"It's lovely that we can give children these experiences," adds Denise. "We really want to encourage all children, regardless of experience, to apply. We can spot the potential in these youngsters and know that with training from our highly experienced teachers, these young people can acquire the skills they need to progress in the performing arts."
As well as talent, the judges are looking for a strong dedication to the performing arts, maturity and a real desire to learn.
To ensure as many youngsters as possible can enter, Razzamataz has created a scholarship system where students and potential students film a short demo of no more than two minutes long showing them performing either a musical theatre song and dance, street dance, pop song, drama improvisation or scripted drama piece. The demo does not have to be professionally filmed, something created on a smart phone will suffice. Applicants will also complete a short application form detailing why they would like to take this opportunity.
Applications open on May 2nd and close on July 20th. Apply directly by visiting here.
SHARE: