For many people, the idea of being free of the 9-5 and daily commute is hugely appealing. Working flexibly around family commitments or lifestyle choices is something that many professionals aspire to, but the statistics around starting your own business are very off putting. Experts put the failure rate for new businesses in the first four years as high as 50%.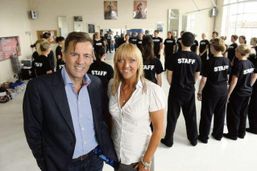 However, there is an alternative that is gaining in popularity. A franchise offers a ready-made business model, a tried and tested product/service, extensive training and a huge amount of support to assist even the most inexperienced business owner.
To discover the right franchise model for you, visit the International Franchise Show in ExCel London on the 16th and 17th February 2018. It will be packed full of useful information for anyone considering a franchise and includes some of the most successful franchisors, including Dragons' Den backed Razzamataz Theatre Schools.
Meet the founder and Dragons' Den winner Denise Hutton-Gosney who can tell you how she earnt the backing of Duncan Bannatyne and how her journey as a franchisor has enabled Razzamataz schools to open throughout the UK. Since appearing on the BBC show, Razzamataz has gone from strength to strength and has forged partnerships with some hugely respected brands including First Choice Holidays, Eurocamp, The Stage newspaper, Her Majesty's Theatre, Disneyland Paris and Indigo at the 02 to name just a few.
"We are really looking forward to The Franchise Show and meeting people who are considering taking control of their careers in 2018," says Denise. "We are very proud to have been awarded a 5 Star Satisfaction Award from the Smith & Henderson survey, which is a benchmark assessment comparing results of franchisors of a similar size. We were judged by our own franchisees so we are delighted that the results reflect the efforts we put in to making sure that our training and continued support is of very high quality."

Alongside Denise will be a Razzamataz franchisee Hayley Limpkin, who is the Principal of Razzamataz Medway. Hayley will be talking about her journey as a franchisee and how it has given her the work/family life balance that she was looking for. The school has more than 500 students so Hayley will be sharing her top tips for business growth, how to select a franchise that can best support you to achieve success and sharing her experiences to show how franchising has allowed for a flexible lifestyle with job satisfaction combined with financial gains.
"Hayley's school at Medway has really exceeded our initial forecast, which shows that the potential for any franchisee is enormous," adds Denise. "We have a huge range of very successful franchisees including recent graduates, parents looking for flexibility, past performers with no business backgrounds and those who wanted a change of career in their 40s."
To find out more about opportunities, Suzie McCafferty, our Franchise Recruitment Manager will also be at the show. Suzie has over 17 years international franchise experience and is the British Franchise Association's Regional Chair for Scotland.
If you have been considering running your own theatre school for a while or if the idea of franchising is still very new, come along for an informal chat to find out more and meet the team. There are many former school teachers and teaching assistants within the network who use their experience working with young people to create the life that they are looking for. Come and say hi, we are of Stand 540.
If you would like to find out more before the Franchise Show, the Head Office run Discovery Den days across the UK where potential franchisees get a chance to meet the team, find out more about franchising in general and discover what it is like to run a part-time theatre school.
For new franchisees, Razzamataz has a special offer of just £7,995 (£2,000 saving) to launch a Razzamataz theatre school. Plus until the end of 2017, Razzamataz will pay your VAT - a saving of around £1,600 and your first term management fee is free.
SHARE: