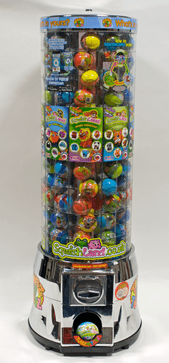 British vending franchisor Tubz Brands has launched US vending concept Sqwishland in Europe, the first time it has been on the market outside the United States.
Tubz Brands have acquired worldwide distribution rights outside America and since launching the brand in September they have already sold more than 250,000 units. In the US Sqwishland products have sold more than 20 million units a year and been voted 'Bulk Vending Toy of the Year' for the last eight years in a row, so 250,000 units could perhaps be just the tip of the iceberg for Tubz Brands.
What is Sqwishland?
The concept is a collectible Sqwishland toy vended in a capsule or tub, at a varying degree of rarity, with a unique code. This code allows the purchaser to play games, collect Sqwash (in-game currency) and look after their virtual pet via a downloaded app through the App Store or Google Play Store.
There are sets of Sqwishlander creatures to collect (which you can mark off with the counter included in the capsule), many educational games to play and lands to explore on Sqwishland Connect. It is the only vending product that ties in with a gaming app.
How Sqwishland got to Europe
Tubz Brands secured worldwide rights to distribute Sqwishland vending products in May 2017 after meeting with creator Brand Vending, who are based in Arizona. The two companies initiated talks remotely at first, before they met in Fort Worth, Texas at a trade show, and had subsequent meetings.
Brand Vending are also looking to take on distribution for Tubz Brands in the United States.
Tubz Brands' sales director Simon Smith explained why the collaboration with Brand Vending made sense:
"Sqwishland is a brand that's already established in the US, selling in excess of 20 million capsules every year, so it's already proven.
"We're lucky to have secured this deal meaning we're the first company to bring Sqwishland outside the US."
Brand Vending has been developing the Sqwishland brand and concept for nine years.
This is not the first time Tubz has collaborated with a big brand. The Kent-based company has previously worked with notable names such as Disney, King (Candy Crush), Haribo and Nestle.
How Tubz Brands got here
Tubz Brands was established as a tiny startup back in 1998, before the term startup was even used. At this time two students, including current Sales Director Simon Smith, took delivery of 50 vending towers and stock.
They offered commission to pubs and bars to have a machine on their premises and the story grew from there. Simon was the driving force and built the business over the years. He began to franchise the brand, selling machines and products to franchisees, which proved essential to the success the company subsequently achieved, leading to Tubz Brands being the UK's number one vending tower business today.
SHARE: