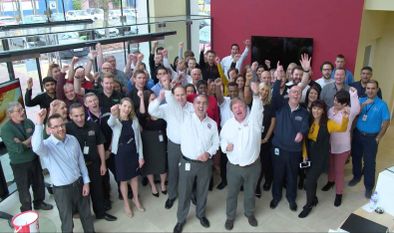 Papa John's growth since it was set up in 1984 has been described as 'nothing short of remarkable.' The franchise is the brainchild of John Schnatter, the original 'Papa John'.
John Schnatter's story is an inspiration to any franchisee. At high school, he worked as a dishwasher at Rocky's in Jefferson, Indiana, later selling his prized car to fund used restaurant equipment to make and sell his own pizza from a converted broom closet in his father's tavern.
After graduating from Ball State University in 1983, John returned to Jeffersonville where his father owned a tavern, Mick's Lounge, which was $64,000 in debt. John's dad asked him to put his newly acquired business degree to work and help pull the tavern out of debt. John decreased the debt by increasing the price of the pool tables and lowering the price of beer. Once Mick's was on its way to showing a profit, John began to focus again on his first true love, pizza.
He decided the folks at Mick's might be willing to buy it so he knocked out a broom closet in the back of the tavern, sold his prized 1972 Z28 Camaro and bought $1,600 worth of used restaurant equipment. The customers loved the pizza so much that John was able to expand by moving into adjoining space in 1984, eventually leading to the opening of the first Papa John's restaurant in 1985. Today, the Papa John's franchise operates around the world. There are now more than 350 stores across the UK and over 5,000 stores in more than 40 international markets and territories.
To have this degree of success our franchisees have been key. Many of those working in the UK started out running just one Papa John's outlet and have gone on to open many more. It doesn't take experience to become a successful franchisee however, it does require a special kind of person to build and motivate team around you to create a thriving enterprise.
Successful Papa John's franchisees are motivated, enthusiastic, hard-working and want to be part of a growing team. Exceptional interpersonal and people skills are essential, as they are dealing with customers as well as leading their own team on a daily basis. In addition to excellent written and spoken communication skills, franchisees are organisers with a can-do attitude! They are people who get things done. They are also dedicated and passionate enough to adapt to a proven way of working. Plus they have the ability to roll their sleeves up and get stuck in, which means everything from making pizza through to managing staff.
Franchisees are supported by an equally dedicated group of people based in the recently refurbished UK and European Campus in Milton Keynes. The facility houses over 100 employees on site, is also home to Papa John's fresh pizza dough factory, our state-of-the-art facility which supplies well all our franchised units across the UK on a daily basis. With all head office staff and functions on one site, we have gained logistical efficiencies in addition to providing the best training and meeting facilities for our visiting franchisees too.
Papa John's has recently turned up the heat on marketing by recruiting new marketing executives plus a new senior director, marketing, David Scott. David Scott, former brand director for Carlsberg and marketer for the well-known pub retailer and brewer Green King, has a clear goal: to drive sales and build the Papa John's brand from a consumer point of view. Marketing campaigns scheduled for this year include TV advertising, digital marketing in addition to some innovative and fun partnership promotions which will engage consumers and get them more involved with the Papa John's brand. You could say: the Papa John's marketing team is now really cooking!
At Papa John's we strive every day to offer a superior product and service to our customers and as a result the Company has grown rapidly. However, it is the people behind the brand from John Schnatter himself through to all the various teams which support our franchisees, plus the franchisees themselves and their own staff which are important and have been and will continue to be, the key to the Company's success now and in the future. Pizza really is a people business.
Papa John's continues to experience unprecedented growth through new store openings and our product is ever growing in popularity. As a result we are currently recruiting for more franchisees across the UK to join our successful team.

For further franchise information please click here
SHARE: