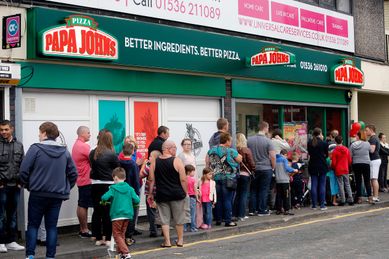 Steve Huson joined Papa John's in 2016 and now runs two outlets in Newcastle-Under-Lyme and Stoke-on-Trent.
What Did you do Before Joining Papa John's?
I originally started out as a gas engineer but I always wanted to be in the food business! Over the years, I've had some pretty varied roles mainly in direct sales, including selling vacuum cleaners and even those accessory strips which feature everything from cotton to cloths pegs that you tend to see on gondola end displays in convenience stores! I was also a Subway franchisee for more than ten years before joining Papa John's.
Why franchising?
I first found out about franchising by reading an article in a magazine and never looked back! It offers a secure business model and all training and resources are provided.
Why Papa John's?
I'm a great pizza fan and love the Papa John's product so when the opportunity came along to buy the existing Newcastle-Under-Lyme store last year, I got a deal on the table pretty quickly! Papa John's ever popular: BETTER INGREDIENTS. BETTER PIZZA. concept means we supply a superior quality product using fresh dough and ingredients and customers just keep coming back for more. It was the fresh approach to a quality offering which really interested me.
How did you raise the finance?
I was able to secure a business loan from HSBC's franchising department which was part of a Government guaranteed scheme. HSBC's staff were very helpful and encouraging as they know the Papa John's brand well and how well other franchisees are doing. The whole process was very straight forward.
How Has your Business Grown Since Joining?
I was amazed how quickly business picked up. In my first outlet, in the short time since the take-over in September 2016, sales are up 75%! I will employ a similar strategy of focusing on providing the best quality product and service possible in my new outlet of Stoke-on-Trent which I opened recently, with the aim of keeping staff motivated and delivering top quality pizza to ensure repeat business from our valuable customers.
What support and training have you received?
The support from Papa John's so far has been great. The team are totally dedicated and supply a turn-key offering so I can focus on the business. The current franchisee incentive scheme has also been helpful as it offers some free equipment, reduced royalty fees and help with marketing right when needed.
Training is thorough and takes place at Papa John's facility in Milton Keynes as well as in-store. For staff there is a learning portal called U-Learn which takes care of training on a modular basis. This is particularly helpful and saves time when training many new staff.
What is a typical day?
Varied! I may be in-store helping or overseeing staff or working through admin or checking the figures or feedback from customers. Marketing is a part of what I do and this may mean devising leafleting campaigns or online promotions. I get involved with every part of the business, if that means delivering a pizza or two if we are really busy, then so be it! No two days are ever the same!
What makes a good Papa John's franchisee?
I believe to become a successful Papa John's franchisee you need to be hard-working, flexible and enthusiastic. The Company takes care of the training and you need to follow the manual and put into practice what you've learned. Management and people skills are helpful, as you are dealing with customers as well as leading your team every day. However, mainly, you'll need the ability to roll your sleeves up and get stuck in, which means everything from recruiting and interviewing staff through to meeting the BT representative to talk about the phones!
What are your plans for the future?
It is so exciting to have recently opened-up in my home town of Stoke-on-Trent. We are located in an historic building but right next door, old meets new and Costa, Nando's plus some other well-known brands are setting up in more modern buildings and this will all attract more customers. In the future, I am looking forward to growing sales in the new outlet and have plans in the pipeline to add another Papa John's soon, so watch this space!
For more information on Papa John's - Click Here.
SHARE: