Peter Bracey, Managing Director of
Bracey's
Accountants
undergoes exclusive Franchise Expo interview!
Peter Bracey takes us behind the scenes of Bracey's Accountants Franchise, delving into the intricacies of franchising with Bracey's, and who Bracey's look for in potential franchisee applicants!
-
1. Tell us about the Bracey's Accountants concept.
Formed in 2010, Bracey's have developed a core brand, ethos and process-driven approach. The firm is described as "leaders for business owners needing expert advice and support." Bracey's are a dynamic and innovative accountancy firm; providing proactive accounting services and advice to companies and individuals throughout the country.
Through consistently delivering market leading solutions, Bracey's have seen massive organic growth, with offices in Hitchin, Stevenage, Hemel Hempstead and Edinburgh.
Our large team of experts cover all accounting needs, delivering innovative solutions. We see our clients as more than just a number. Dedicated and approachable specialists liaise with our clients regularly in review meetings, delivering a personable service. They know we're on the end of the phone when they need us. Whatever our client size, and whichever the need, Bracey's Accountants can tailor a solution that suits our clients and their goals. We know the stereotypes. You won't get that with us. We're a warm, friendly bunch with a great set of useful skills, quali?ed to guide and advise you, whatever your needs may be.
-
2. How and when did you become involved with Bracey's Accountants?
After a successful career in the accounting industry, I was keen to be my own boss and saw an opportunity to start my own Practice. It was important to me, even in the early years, to focus on my clients and build relationships with them so that they would continue using Bracey's Accountants for their accounting and tax needs.
I knew I would be operating in a highly competitive market and would need to be different, and I feel that we are. We forge long-term relationships with our clients and offer tailor-made accountancy solutions. I wanted my team to reflect what I would want from my own accountants: expertise, support when I need it, and most importantly, to take the time to understand me, my business and my goals. These core values have allowed us to grow over the last nine years.
-
3. What was your background prior to joining Bracey's Accountants?
I studied at the University of Hertfordshire and first worked as a purchase ledger clerk for a local company. Here I gained basic practical experience within the industry. I worked as a Senior Manager at a couple of local practices over the next few years until I decided to start my own practice.
-
4. What are some of the advantages in being a Bracey's Accountants franchisee?
I know that there are many people looking to start their own practice but they may not have all the skills and expertise needed to do it. The Bracey's franchise offer provides all the tools a franchisee would need succeed within an established brand. We want franchisees who are keen to build their own practice and we help them do it. Bracey's provide almost all the infrastructure needed to start a Practice, including an optimised website, access to PR & marketing experts and our office team (including specialists) for support.
-
5. Who is your ideal franchisee?
Someone who has a few years' experience in the accounting industry and wants to start their own practice now but may need a little help. Hard work is key, and you have to want to your business to work, including spending time networking and building relationships. And of course, you need to persevere – things don't always go the way you plan!
-
6. What are some of the great lessons you've learned in growing this franchise?
As we all progress through our lives, we all continually learn from the things we do so that when we're in the similar position again, we can do them better or more efficiently. Hard work is the key to any business; if you're not prepared to continually put in the hard work no matter what is thrown at you then you will find it hard to succeed. Expectation management is a key skill which I recognised many years ago and which is a constant when dealing with clients, staff, friends and family. Don't leave someone expecting one outcome when there are potentially other outcomes they should be aware of.
-
7. Do you have a mentor and is there someone you use for inspiration?
No, I don't have a mentor. Sometimes, when things get tricky, you have to look inside yourself and find the strength to deal with everything with a smile on your face. When the door is shut, the smile can momentarily drop, but always stay positive and always move forward. As for inspiration, I think I am and have been inspired by numerous people over the years, my Uncle with whom I started working with from seven years old through to my own staff who I draw inspiration from when I see them working really hard to get a job done for our clients. I have a very positive outlook on life and I think you can draw inspiration from numerous sources on a daily basis!
-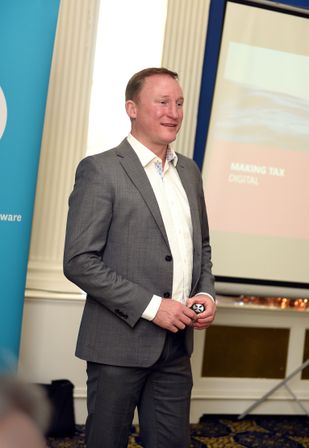 8. What advice do you have for someone looking to acquire a Franchise?
Research is key. This is a long-term business relationship and neither party should embark on a franchise without spending time to get to know one another. You will want to make sure that this is the industry for you, and that a franchise route is the option for you. Lastly, you want to make sure that it is the right brand for you so don't rush, ask questions and only then make your decision.
-
9. In your opinion why do you think that Bracey's Accountants would be a fantastic opportunity for someone?
We have a formula that works, our existing franchisees are successful, and we are actively looking to grow our network through franchising. Our franchisees join an established network of accountancy practices which does not limit them in terms of client numbers, client type or size. Franchisees will be working alongside like-minded entrepreneurs working for themselves but not by themselves.
Interested in opening your own Bracey's Accountants franchise? Hit 'Request Free Info' to get in touch directly!
SHARE: