Former Rugby Star Darragh Fanning Reveals His Journey into Franchising Fresh Mexican Chain
Zambrero
!
-
During Fanning's rugby career out in Canberra, Australia, he was introduced to Australian loved Mexican food chain, Zambrero (a company that prides itself on on healthy Mexican food).
From that day Mexican food chain, Zambrero, was about to embark on a journey outside it's Aussie roots and into the Irish capital of Dublin. Zambrero now has over 110 branches outside of Queensland and has expanded into Thailand, New Zealand and Europe.
With determination and perseverance Fanning's Dublin store has relished in success, the company now plans to open a further six restaurants in Ireland this year!
-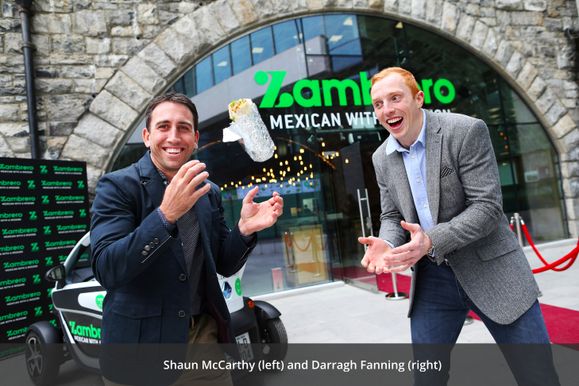 -
"A target of 45 stores across Ireland over the next 15 years"
-
A few years prior to his Australian stint, Fanning helped his business partner Shaun McCarthy (former St Mary's College First Team Coach) and his wife Clara open their second Zambrero restaurant over an eight week period. Around three years later Fanning was approached by Shaun with an opportunity to get involved in bringing Zambrero to Ireland and the UK!
"It was an opportunity for them (Shaun and Clara) to pay me back for helping in the early days with the Zambrero brand," Fanning explains.
-
"No prior knowledge of franchising"
-
"I have no prior experience with franchising but after getting involved in Zambrero (with Shaun) I loved the franchising model," Fanning tells Franchise Expo. Fanning is also a lover of Mexican food, so after discovering Zambrero, the franchise was a perfect fit.
As well targeting health conscientious consumers through healthy Mexican food; no fats or additives, Zambrero also focuses efforts on reducing poverty in third-world countries; for every burrito or bowl purchased at a Zambrero restuarant, the chain will donate a meal to someone in need through its distribution partners 'Rize Against Hunger'.
"I always saw myself as quite entrepreneurial and always had a goal of being my own boss as soon as the rugby career ran its course"
"I had a pretty late start in my professional career, I didn't join Leinster until I was 27 and had been working in a sales job up until then. I had gone to college and worked a number of different jobs, as well as a year playing rugby in Australia where I first tried and fell in love with Zambrero". This quick-service, unique franchise model was something Dublin had yet to experience.
-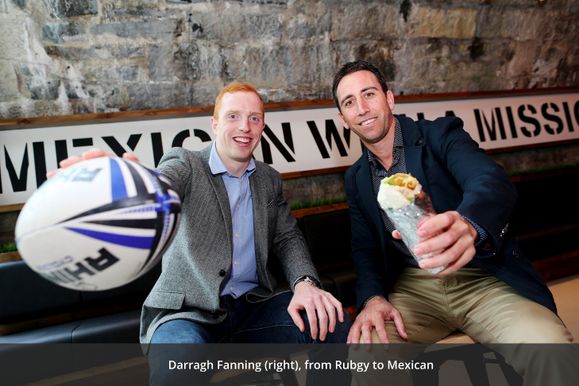 -
The chain offers traditional Mexican restaurant staples such as Burritos, Bowls, Nachos and Tacos, while catering for the ever-changing needs of consumers and their different dietary requirements - gluten free, dairy free, vegetarian and vegan options. Customers can feast on slow-cooked meats marinated in spices and natural herbs, with the perfect complements of crisp cos lettuce, fiery jalepenos, a range of six speciality sauces, and a variety of sides.
Fanning hopes to help set up an additional four to five Zambrero restaurants in Ireland during 2018. Expansion into the UK is also on the cards, with plans set on the end of this year or early 2019.
-
"It's not always been plain sailing"
-
Growing the chain has come with its challenges. Whilst Fanning was happy with his new venture and the way in which things were progressing not everything was plain sailing; Fanning had to persevere through long hours and adjust to the early morning - late night schedule.
"I lost 10kg in about 10 weeks," quotes Fanning. The late nights and early starts proved a lot of strain during business start-up, on top of the adjustment from his rugby career.
Baring that in mind however, it was the fundamentals needed in professional rugby that saw Fanning stay determined, driven and ambitious through the 'tough' periods. When asked what the key attributes one needs to franchise with Zambrero, Fanning revealed to Franchise Expo; "someone who is fun and hardworking", Zambrero's work environment is fun, fresh and modern, all staff work hard whilst enjoying themselves and engaging with customers.
-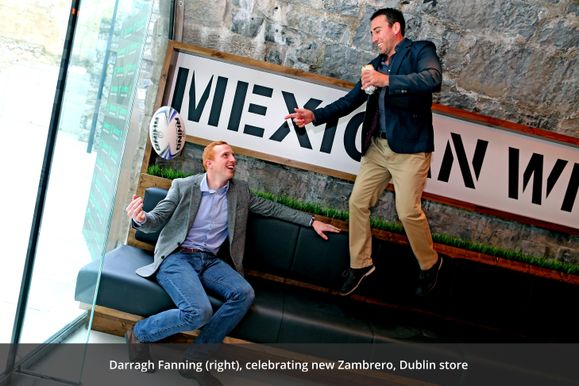 -
"If you like the idea of being your own boss with limited risk, franchising is the way to achieve that," Fanning comments to Franchise Expo.
Zambrero offer a range of franchise sized restaurants and options to suit each individual's needs. The company continues to seek like-minded individuals who have a love for good food and are driven enough to take that next step into business ownership. As Zambrero continues to grow, what their franchise partners can expect, is to be part of something bigger, as the global franchise group hopes to achieve 1 billion meals donated to those in need by the end of 2025.
If you wish to find out more about Zambrero join us at the Irish Franchise Show, 2018, at the RDS Dublin - 7th and 8th September, where Darragh Fanning will be speaking.
-
#jointhemovement #plate4plate #letsendworldhunger
-
Author: Joshua Christopher
Want to advertise with us? Just click the link at the top right of this page! For further info and details email: franchisexpoinfo@gmail.com.
SHARE: