Franchisee Since: October, 2013
Now, that's what I call a good year – how one
MagiKats

franchisee grew by 300% in twelve months!
When Iftikhar Hussain from Edinburgh launched his MagiKats franchise in October 2013, his goals were clear. He wanted to open several centres in Edinburgh and eventually across Scotland – and he is well on his way to achieving that goal!
Opening his first centre on Leith Walk was a great start. A permanent space above the Leith Walk shops got the MagiKats treatment and soon the students were coming in for extra maths and English tuition.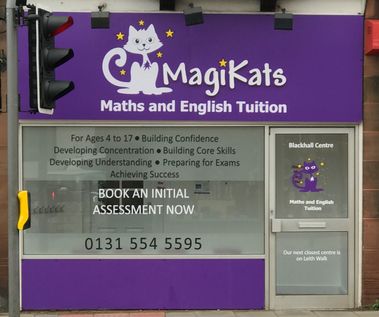 -
With purple carpet and a massive, purple wall with the MagiKats logo, Ifti certainly knew how to brand a location!
"I wanted to ensure that nobody was in any doubt where they were," commented Ifti when interviewed recently about his success. "As the space was above the shops, I needed to make sure I stood out, so I also had a large banner put up across the windows. After all, you need to make a permanent space work hard to pay for itself!"
In December 2015, the Leith Walk centre was operating happily with around 66 enrolments. Ifti's goal was to open a second location in August 2015, but he wanted to make sure the Leith Walk centre was at around 100 enrolments before he made that decision, so it gave him a great, short term goal to work towards. "I had to work hard on local marketing to get more students through the door," explained Ifti, "as I could not only rely on word of mouth from existing satisfied parents. I needed to get in to new markets, so I worked hard especially with online advertising – and it worked! I was able to report 105 enrolments in May this year."
Ifti decided the time was right to take the next step: "Looking at the local market, I identified that the Blackhall area was in desperate need of a MagiKats Tuition Centre – so I applied to MagiKats HQ and they said yes!"
Having seen how successful a permanent base had been in Leith Walk, Ifti searched long and hard for the right premises in Blackhall, this time settling on a shop location in a busy part of the area. In what was now tradition, the purple wall was the first thing to be painted!
The opening of the new centre was, inevitably, slightly delayed. It's not always plain sailing in business! However, since the launch of the Blackhall centre in October, Ifti has reached the magic 200 mark – with 201 enrolments across the two centres reported in November 2016!
I should also point out that, since opening just over three years ago, Ifti has met and married his wife – although he is rather tongue-in-cheek as he suggests that this did affect his growth rate! So, what's next? Here's what Ifti had to say: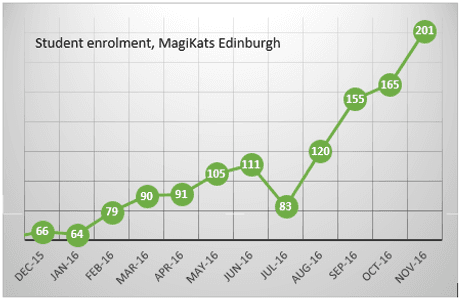 -
"A great friend of mine has recently applied to MagiKats HQ to open the first centre in Glasgow and I will be supporting him in that, as he has supported me in the last three years. I want to grow the Blackhall centre to at least 100 enrolments, whilst maintaining growth in Leith Walk. I don't want to cram the students in though – I will only take students if I feel I can do as good a job with them as I did with my first enrolments. Long term, my business will only be successful if I do an excellent job with my students. After that – perhaps another part of Edinburgh will get its own purple wall – who knows?"
Would you like to be the next Ifti in your local area? Perhaps your ambitions are smaller, but you would like to tutor kids in Maths and English in your local area?
Find out more about the MagiKats franchise opportunity - Hit 'REQUEST FREE INFO today!
SHARE: