Why Every Child is Special
-
Children come in all shapes and sizes and will look just as different on the outside as they feel on the inside. When it comes to little ones, there should really be no 'one size fits all' approach.
For some children and young people, they also have challenges of coping with additional needs. That can be anything from dyslexia, autism or health complications.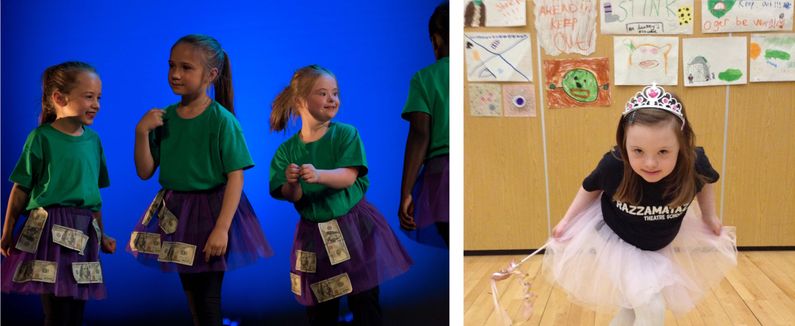 -
Denise Hutton-Gosney is the MD and Founder of Dragons' Den backed theatre school franchise Razzamataz, which is now celebrating 18 years of business. Denise has encountered what it feels like to parent a child with additional needs as she explains: "My four-year old son Lewis was diagnosed with Type 1 Diabetes when he was just two. This is a condition which poses many challenges to his day to day life. However, with careful management, he can lead a completely normal life so I was particularly shocked and upset when a tutor refused to teach him because of it. While I would not expect anyone to administer medical treatments, I was very sad that he was excluded even when we explained that she would be fully supported and would not need to deal with his condition, just to liaise with us his parents and my diabetes team."
Fortunately for Denise and Lewis, many children's activities have a much better understanding and he is able to experience fun classes and clubs like any other little boy, including Razz Minis, which he adores.
"Lewis attends the Razzamataz school in Penrith and loves the whole session, especially the wonderful Principal Lauren," adds Denise. "As the Founder of Razzamataz, I have always believed that we must try and include as many children as possible and we work with their parents so they can enjoy rich and fulfilling experiences that will help to boost their confidence, which ultimately can help them deal with their condition in a more positive way."
As a franchise, every Razzamataz school is under strict obligations to adhere to a stringent set of audits to ensure they are as inclusive as possible. This includes: First aid certificates, DBS/PVG certificates for all their team, full insurance, risk assessments, fire assessments, child protection policies, GDPR policies and thorough staff training and induction.
"We also annually review our safeguarding policy and child protection to keep up with current legislation and best practice," adds Denise. "We have a care plan outline that Principals can access as well as safeguarding training before each school opens, and we constantly share best practice and update the whole network to ensure consistency across the schools."
The care and attention to detail that Razzamataz offer students and their families have led to wonderful student success stories over the years. Razzamataz is committed to helping as many children as possible to have the chance to enjoy performing arts as Denise says: "We have many students who have additional needs that really flourish with us. It's quite heartbreaking to meet parents who are genuinely shocked that we welcome their children who have particular needs. The success comes from meeting with parents and talking through each child's care plan and if necessary we will arrange to meet with their medical professional to get some training. We will do absolutely all we can to ensure each child can enjoy our classes and meet new friends in a safe and caring environment."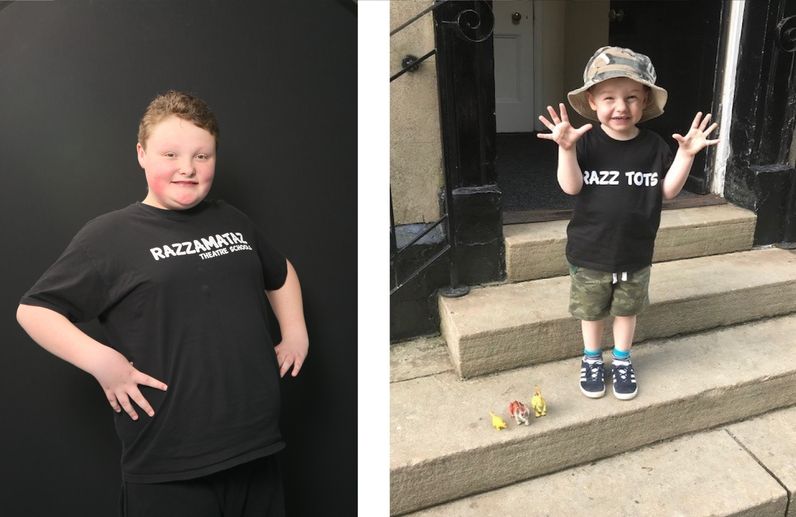 -
To celebrate 18 years of successful business, Razzamataz is giving more people the opportunity of joining the network. Until the end of 2018, there will be no up-front franchise fee of £7,995 plus VAT to pay. All that will be required is the £4,000 initial marketing launch and £5,000 working capital as opposed to circa £20,000 that would have included the franchise fee. Candidates who choose not to pay the upfront franchise fee, will pay 20% MMF instead of 10% over three years or nine terms.
To find out if franchising is the right option, Razzamataz holds regular Discovery Den days across the UK where potential franchisees get a chance to meet the Head Office team, find out more about franchising in general and discover what it is like to run a part-time theatre school.

_____________________________________________________
Inclusion at Razzamataz:
-
Razzamataz Sheffield
Josh, 14, has been with Razzamataz Sheffield for five years. His mum says: "Our son has been attending Razzamataz for some time now and it continues to be a positive experience for him. He has always had a flair for the stage but it is not something that comes easy to him as he lives with severe learning difficulties and autism. I feel that Razzamataz has enabled him to improve on valuable life skills such as his confidence, independence and general social skills, whilst enabling him to do an activity that he really enjoys." Josh's parents worked with the Principal Helen Bell to secure funding for a 1:1 support for Josh so he could move up to the Inters group. After two years in the group, he no longer requires this one to one and he is a thriving, happy and confident member of the group. "The support that you are providing Josh with is commendable. Due to him not reading and writing, the only way he learns is to repeat, so the tracks will be really helpful. He is also determined to try his best for you all, as he is very keen for you all to be very impressed with him! I am one very proud parent."
Razzamataz Tonbridge
Student Esther has been attending Razzamataz Tonbridge for five years. Her mum recently advised the Principal Eve Aston that her daughter now wishes to be known as Aaron. Eve sought advice from Head Office on the best way to approach this and worked with Aaron's parents to make the transition as smooth as possible. "I'm pleased that you have given the matter so much thought and that Aaron will be accepted at Razzamataz."
Razzamataz Yeovil
There are a number of children at Yeovil with additional needs including: Asthma, Eczema, food allergies, hearing aids, Down's Syndrome, Autism, Aspergers, Type 1 Diabetes, Sensory Processing Disorder, Attention difficulties, dyslexia, von Willebrands disease, Cortisol deficiency and blind in one eye. "We held a SEN training day a couple of years ago where we tapped into the expertise of existing staff to consider how we could address all the various needs," explains Claire Walford, Principal of Razzamataz Yeovil. "This resulted in a dropbox folder full of resources that all new staff access and a lot more visuals at school including singing lyrics on coloured paper for our dyslexic students which helps them." Parent Bern Bulman says: "Razzamataz Yeovil have been a truly inclusive team. They have developed my two children's confidence and skills in a very supportive, social and fun way. We were thrilled to see the summer performance which had inclusivity at its heart, throughout its themes and demonstrated in its practice."
Razzamataz Bristol North
Poppy, age 11, has been a student at Razzamataz for nearly four years. Since she joined, she has been diagnosed with ADHD and is currently being assessed for Autism. As soon as her parents had the diagnosis, they spoke to the Principal at Razzamataz who immediately put their mind at ease, explaining that they had many pupils in similar situations. "Poppy's confidence has grown and grown since she has been attending Razzamataz, and the teachers work with her to help her to concentrate and recognise her boundaries, which she can find difficult. She loves singing, dancing and performing. She does suffer from anxiety, but again the teachers are aware that this is part of who she is, and help her deal with the run up to performances. Razzamataz has been great for Poppy, giving her lots of different opportunities, and allowing her to be herself and grow in confidence and resilience."
Razzamataz Bristol South
Principal Michaela and the team have tried really hard to make sure they can offer opportunities for as many children as possible with some lovely results. "My daughter has had a hard time lately. She has been diagnosed with ASD and ADHD, which means she is very over friendly and very outgoing, a people pleaser. When I was younger, I faced similar issues and found that singing and dancing helped me. So I enrolled my daughter into Razzamataz and it was the best thing I've done. She gets so excited to sing and dance every Saturday morning, mostly because children there don't judge her on her autism, a problem she's faced all her life. She fits in so well and her personality perfectly matches the group ethic there. The teachers are all very nice and friendly and put my daughter at ease so much so she never wants to come home!"
The team at Bristol South have been very proud to include a little girl called Jessica who has touched the hearts of everyone. Her mum says: "My daughter Jessica is four years old and has cerebral palsy with the severe symptoms of double incontinence, uncoordinated chew and swallow, right sided weakness and sensory perceptions problems. In June of 2017 I decided that Jess would benefit from a theatre school to help her development and confidence. I contacted another theatre school who said a flat no due to the double incontinence. So, I contacted Razzamataz, explained her medical needs, and nothing was a problem and she was invited to a taster session. On the first session I explained all of the problems with Jess and she was taken straight away and placed in a class. In the last year and a half that Jess has been at Razzamataz her confidence and ability has grown more than I ever hoped. Jess has been included in all of Razzamataz activities. The biggest thing for me was the end of year show, I wasn't sure how Jess was going to take part. With her having high dependency on nappies which includes frequent bowl movements I couldn't see it possible for her to take part. However, her teacher, a trained nursery nurse and someone Jess had built an amazing relationship with, offered to change her so she could take part. I've never been so touched by a private organisation going over and above to include and support my child's needs. Also making me the most proud and grateful parent. Jess will be at Razzamataz for the foreseeable future as she loves the teachers and all the friends she has made," Laura potter.
Razzamataz Leeds
Principals Jude and Phil at Razzamataz Leeds place great emphasis on being totally inclusive and this has benefitted many students. The challenges that students face have been wide and varied, from the social areas of shyness and lack of self-confidence through Aspergers and Autism to more serious physical conditions. Parent testimonials include:
Emma Fritz: "What a lucky find Razzamataz Leeds is! Our daughter is very fortunate to attend such a supportive and fun group. Jude and Phil have looked after our little girl from day one, understanding her various medical and behavioural needs and adapting what they do where necessary. From attendance of rescue medication training to having meetings of how we can adapt her day to make sure she is safe at all times and can fully immerse herself in activities, Jude and Phil have allowed our daughter to become more independent, having to not rely on Mum and Dad being around 'just in case' something happens. They are very inclusive and have gone out of their way to make sure she is able to be a Razz Mini. We can allow our daughter to attend Razzamataz Leeds knowing she will be well cared for should any 'events' arise. Our daughter has been on the stage at the Northern Ballet twice now because Razzamataz Leeds have not let her additional needs and challenges get in the way of her having fun, performing and doing what she loves best."
Lisa Fielding: "Our daughter has a serious blood clotting disorder; it can be worrying for us leaving her at new places in case she has an accident. However, Phil and Jude very quickly put our minds at ease on her very first session. Nothing has been a problem for them or anything too big to ask. They have ensured that they are up to date on information about Jasmine's condition and have taken steps to ensure they are prepared for any accidents. Jasmine feels fully included and isn't made to stand out from the other children. They have bought in ice packs especially for Jasmine, and I really appreciate that. I really couldn't have asked for anything more from anyone at Razzamataz Leeds."
Kath White-Edmonds: "Our daughter, Sophie loves to sing and dance at any opportunity, however finding the right class can be challenging as it is important that she feels included and part of the class. Sophie has Down Syndrome and associated Speech and Learning delay. From our initial phone call enquiry, I knew that Razzamataz was the right place for Sophie. Rather than focusing on challenges that Sophie might bring to the class, Jude and Phil focused on her strengths and this has carried on throughout Sophie's time with them. It has been a joy to see how Sophie's confidence and love of singing and dancing has developed, from practising songs and dances at home to performing in the end of term shows. As well as supporting and encouraging Sophie in classes, Jude, Phil and their team have supported our local Down Syndrome Charity, Sunshine and Smiles. We can't thank them all enough, their support, understanding and hard work have really made a big difference, not only to Sophie but the whole family."
Fiona Finn says: "I can't recommend Razzamataz Leeds enough. In her first few years of primary school my daughter Lucy cried during class assemblies and Christmas productions, she felt so nervous sitting in front of an assembly hall full of adults watching her sing. When we tried various out of school activities it was impossible for me to leave her in the class. She would cry and beg me to stay with her. I read about how Razzamataz Leeds classes were designed to boost self-confidence in young people so I thought I'd give it a try as Lucy at least loved to sing at home! She started Razzamataz in September 2016, and I was bowled over how her confidence grew; after a few weeks she told me not to stay with her as it was "the best thing ever." Within a year she was confidently performing with Razzamataz and then went on to win the Student of the Year award. Only last week she auditioned in front of 60 children and her school's Teachers for a solo in her school Christmas production and was successful in winning the role. What an immense change in her. They have done an amazing job simply by caring, and delivering everything they promised to do."
Celia, parent of Inter Student Brooke Adams placed a Google review which read: "Razzamataz is quite simply the most amazing, nurturing and fun environment for children. My daughter started classes last year and the change in her has been incredible. She has gone from being a rather shy and quiet girl to confident and self-assured. At school she has begun to excel in singing and drama with outstanding feedback in her school report. Phil, Jude and all the team are superb. They always go the extra mile to make everyone feel so welcome. It's so much more than just a theatre school."
Razzamataz Dumfries
The Dumfries school had a student with cerebral palsy and who was profoundly deaf but this didn't stop her taking part in the annual showcase. It was the first time she had been on a stage and she was able to access it with a lift which enabled her to walk on stage with a frame. Her Principal Pam said: "It was so lovely to be able to see her on stage and get so much from wearing the costumes and make up and taking part." Her parents said: "You and your team have done masses for her and I have totally seen her confidence and physical ability change over the time she was with you and for that I am truly grateful."
Razzamataz Penrith
"I would like to say how delighted I am about the way Lauren and all the team and Razzamataz Penrith have included my son and made him feel so welcome. My son has profound learning difficulties and ADHD. From the first time I spoke to Lauren there was no hesitation from her about if he could attend Razzamataz. My son in particular loves singing and is very friendly and outgoing and Lauren has organised that there is always a Razz team member to support/supervise him. He loves attending every week and has grown so much in confidence."
SHARE: