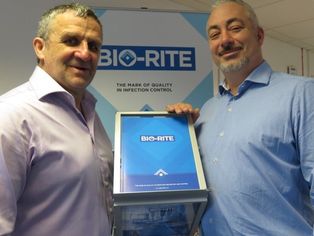 Simon Grey and Graeme Sim joined Bio-Rite as franchisees in early 2017. They now offer the Company's comprehensive range of decontamination services to hospitals and care homes throughout Scotland.
What did you do before joining Bio-Rite?
Simon explains: "I worked in logistics as a financial accountant while Graeme ran his own cleaning and maintenance company in Glasgow for 30 years. Coming from the cleaning industry Graeme understands the importance of maintaining healthy environments and could see the market opportunity. Because Scotland is a large geographical area my logistical background also comes into play! I have an accountancy background and have held Finance Director roles in both the IT and logistics sectors. Between us we figured we had a great skill set to bring to a new venture."
Why did you choose Bio-Rite?
Graeme explains: "We met with the team at Bio-Rite and were impressed by the types of service the Company offers. The NHS is a vast organisation with a real need for decontamination and infection control to keep patients safe and healthy. Care homes also offer opportunities although the market is slightly different and we felt Bio-Rite had a good range of solutions for the specific needs of these types of institutions.
What services does Bio-Rite provide?
Bio-Rite provides a range of services including UV decontamination; community care equipment decontamination that treats over 250,000 items of healthcare equipment each year from an IS09001 accredited base: a hydrogen peroxide decontamination chamber with the capability to decontaminate a range of care equipment including hospital beds and their mattresses, in addition to mobile units. These adapted vehicles have been fully converted to enable Bio-Rite's franchisees and staff to visit the NHS, Local Authorities, care and nursing homes to provide rapid decontamination on-site.
What sort of infections can Bio-Rite's services and products control?
Graeme explains: "Bio-Rite, addresses the challenges faced by healthcare providers trying to cope with the increasing threat from common infections such as Methicillin-resistant Staphylococcus aureus (MRSA), Clostridium difficile (C. diff) and Norovirus. People are familiar with MRSA as it has been dubbed a 'superbug' in the media because it is resistant to some widely-used antibiotics. Bio-Rite's range of UV and hydrogen peroxide decontamination equipment can swiftly treat wards, rooms or community areas to remove the threat of MRSA. However, the Bio-Rite's solutions also remove the threat from air-borne infections such as C. diff which is bacterium that can infect the bowel and cause diarrhoea, with particularly serious consequences for vulnerable patients. Norovirus or the 'winter vomiting bug' is another common infection which can be controlled by Bio-Rite's solutions.
"Bio-Rite can decontaminate a single room in a care home or an entire hospital, including large communal areas. Our offering can be fully tailored to specific needs and we can take care of the whole process from performing the room pre-clean, cleaning of the equipment and furnishings in addition to the 3D air and surface decontamination process. Alternatively, we can simply perform the final decontamination stage. We can also provide staff training to use our products as part of preventative measures against potential future outbreaks of infection."
Is this a competitive market place?
Simon comments: "We were surprised that outsourced infection control services were not already readily available in the Scottish area. Therefore, our rapid ward decontamination is of interest to infection control managers within the NHS. Outsourcing decontamination can save costs and free up nursing staff's valuable time to focus rightly on patient care. In addition, we also work within care homes to help ensure infection free environments for residents too which is rewarding.
Why Should clients choose Bio-Rite?
Graeme comments: "Bio-Rite has a flexible approach, products and training to offer peace of mind but our strategies can also result in significant savings on expenditure. As well as a 24/7 hot-line response, Bio-Rite can also contribute to avoiding a major outbreak of infection and as a result, protect patients."
For more information on Bio-Rite, please Click Here.
SHARE: