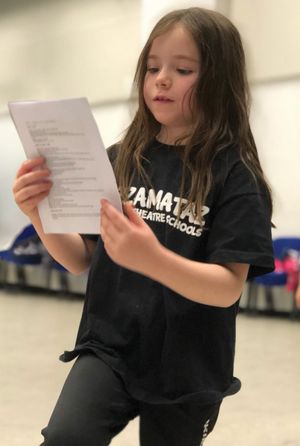 The popularity in performing arts has led to a booming market in theatre schools. The creative industries are the fastest growing part of the UK's economy, one of the few sectors in which we can call ourselves world leaders and in which there is huge employment growth. Last year, one
definition of the UK's creative industries states they are worth £92billion a year to the economy.
With programmes such as Britain's Got Talent, X Factor and Strictly Come Dancing, the industry has also become more accessible. Parents also understand the added benefits of performing arts and many send their children to theatre schools to learn social skills, expand their friendship groups and gain confidence from as young an age as possible. Combine this with the general decline in arts education at Primary and Secondary schools, it is no wonder that weekend performing arts schools are booming.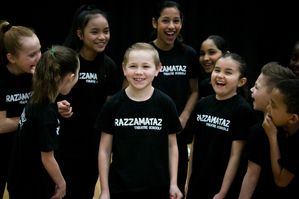 "There is a lot more to running a theatre school than it seems initially and because we work with children and young people, it is a responsibility we take very seriously," explains Denise Hutton-Gosney, MD and Founder of Razzamataz. "We opened in 2000 and have experienced so many different situations from dealing with complex medical health conditions in students to putting on large scale performing opportunities both in London and overseas at Disneyland Paris. The safety of our students and staff is paramount in everything we do but of course we want to also make sure the children are having an amazing time and making life long memories. Running a franchise means that there is consistency throughout our schools all over the UK, so parents can have peace of mind knowing that their child is having the very best theatre arts training and experiences in a safe and secure environment."
As a franchise business, each person who runs their own Razzamataz Theatre School, is put through a rigorous week of training to ensure standards are met. This includes current legislation in child health and safety, creating a school that is inclusive and able to welcome students from a range of backgrounds, how to find the best teachers and how to ensure your school is offering a top-class curriculum with lots of opportunities to work with the best in the industry.
"When parents send their child to a franchise theatre school, they can be reassured that the franchisor will be supporting franchisees every step of the way to ensure there are no compliance lapses such as out of date DBS checks or the wrong insurance policies," adds Denise. "An independent theatre school doesn't have any one to monitor these important safety issues in the same way or necessarily have the budget to work with top people in their field to ensure best practice is always met.
"As a large franchise network of schools, we have the resources to keep up to date with new trends within the industry and continually work with professionals to offer students exceptional opportunities," adds Denise. "This includes working with performers such as street dancers Diversity and musical theatre star Kerry Ellis. Franchise theatre schools tend to offer more opportunities to their students, but the cost of classes will mostly be comparable to their independent neighbours."
Part of their commitment to their students and another benefit of being a franchise, Razzamataz set up the Future Fund to offer scholarships to students looking to progress their training at college or university. "We also work with The Stage newspaper to offer thousands of pounds of free training to youngsters across the UK," adds Denise. "It is not only the financial support that is important, it is the chance to audition in front of and receive feedback from professionals in the industry, which can really shape a young person's future."
Over the years, the Razzamataz team have worked together to create wonderful opportunities for students. These include performing at Her Majesty's Theatre in the West End, the 02 in London and Disneyland Paris. On a more local level, Razzamataz give thorough training and guidance on how to put on shows and perform in events such as Christmas and summer fairs, charity involvement and advice and guidance to pass on to students on auditioning for performing arts colleges.
The commitment of Razzamataz is really paying off for students. Many are entering the performing arts industry and working in hit shows such as Hamilton, Matilda, School Of Rock and Motown the Musical as well as appearing on popular TV shows such as CBBC's The Worst Witch and EastEnders to name just a few. Many former students are also working in the industry inspiring the next generation. Many former students are now Razzamataz teachers and one is even a theatre school Principal.
To celebrate 18 years of successful business, Razzamataz is giving more people the opportunity of joining the network with a range of special offers. To find out if franchising is the right option, Razzamataz holds regular Discovery Den days across the UK where potential franchisees get a chance to meet the Head Office team, find out more about franchising in general and discover what it is like to run a part-time theatre school.
In January 2019, there is a special opportunity to be invited to the network's Conference in Birmingham where a group of specially invited potential franchisees will meet the MD, other school Principals and the Head Office staff.
-

SHARE: