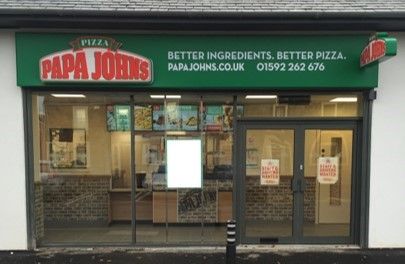 -
Leading pizza franchise, Papa John's, has announced it has opened on Nicol Street, Kirkcaldy, Scotland. Former pizza delivery driver: Siddhartha Chirumamilla (Sid), became a franchisee five years ago and runs Papa John's in the South East of England plus the Scottish Rutherglen, Glenrothes and now Kirkcaldy. Sid has plans to open four further Papa John's in Scotland over the next few months.
Phil Gaffer, QFP, franchise sales & business development manager confirms: "Sid's story is a great example of Papa John's identifying and supporting an entrepreneur. In what other industry can someone who was delivering pizza not so long ago, now oversees a multi-unit million plus turnover business? Papa John's proactively supports franchisees financially, plus provides incentives to help expansion - demonstrating our commitment to working in partnership with our franchisees. Sid has clearly been able to maximise this partnership and we are delighted to support him in his business expansion."
Sid confirms: "Before joining Papa John's I worked as a mechanical engineer. This role was factory based and the job was really the same, day-in, day-out. However, I always wanted to run my own business and when I was studying in London, I had worked for Papa John's as a delivery driver. This gave me the idea of buying a franchised store and with help from an initial HSBC business loan, I haven't looked back!
"At first, I'd planned to open just one or two Papa John's but the business expanded and opportunities came quickly. As a result, I've become pretty passionate about pizza and Kirkcaldy will be my ninth store! The team at Papa John's is highly supportive both financially and personally, everyone is always helpful and enthusiastic. Our goals are aligned to grow the operation and open more stores.
"My role in the industry has changed dramatically over the years from being a student driver to now overseeing my own operation. Most of my work is currently involved with handling the new openings, while my managers run each individual Papa John's. I also work with an experienced business partner: Vamsi Atluri, who looks after the Scottish stores for me.
"I believe Papa John's concept of: "BETTER INGREDIENTS. BETTER PIZZA." which means we only use the best quality, freshest ingredients, is key to the popularity and continued growth of the brand," continues Sid. "With more than 350 Papa John's across the UK and a focused strategy of expansion, I am very much looking forward to contributing to helping the Company take a bigger slice of the market in the future."
Papa John's is actively recruiting for more enthusiastic franchisees hungry to join the team. As one of the largest pizza companies in the world, Papa John's has opportunities for franchisees throughout the UK. Help is provided with location selection and full turn-key opening of stores. As a franchise, the Company supplies all the assistance needed to get your successful Papa John's up and running.
SHARE: