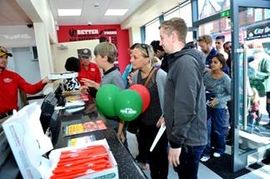 Leading pizza franchise, Papa John's, has announced its latest store opening in Torquay. The seaside town known for its beaches and mild microclimate, attracts around 650,000 visitors each year who can now enjoy Papa John's renown, top quality pizza as a holiday treat.
"Although tourism plays a big part in Torquay's economy, we are also looking forward to serving-up Papa John's pizza to our local community," confirms Papa John's franchisee, Mo Abid. "Torquay has a population of around 65,000 residents, including many families, plus students attending South Devon College. With our BETTER INGREDIENTS. BETTER PIZZA. concept, we have all the ingredients to satisfy demand in this sunny part of the world!"
Mo Abid who used to run a college for international students in London, joined Papa John's in 2013 and also runs franchised stores in Trowbridge, Bristol and Newbury. Thirty local staff have already been hired to help run Torquay and Mo Abid plans to open further stores in the future with the help of Papa John's special incentive scheme for franchisees, designed to give a helping-hand with equipment, marketing and royalty fees when starting out.
There are now more than 350 Papa John's in the UK and over 5,000 stores in more than 40 international markets. Papa John's is one of the largest pizza companies in the world and has opportunities for franchisees throughout the UK. Papa John's is actively recruiting for new franchisees an provides all the training and assistance needed to set up, including help with location selection and full turn-key opening of the store.
To find out more on owning your own Papa John's franchise, please click here.
SHARE: